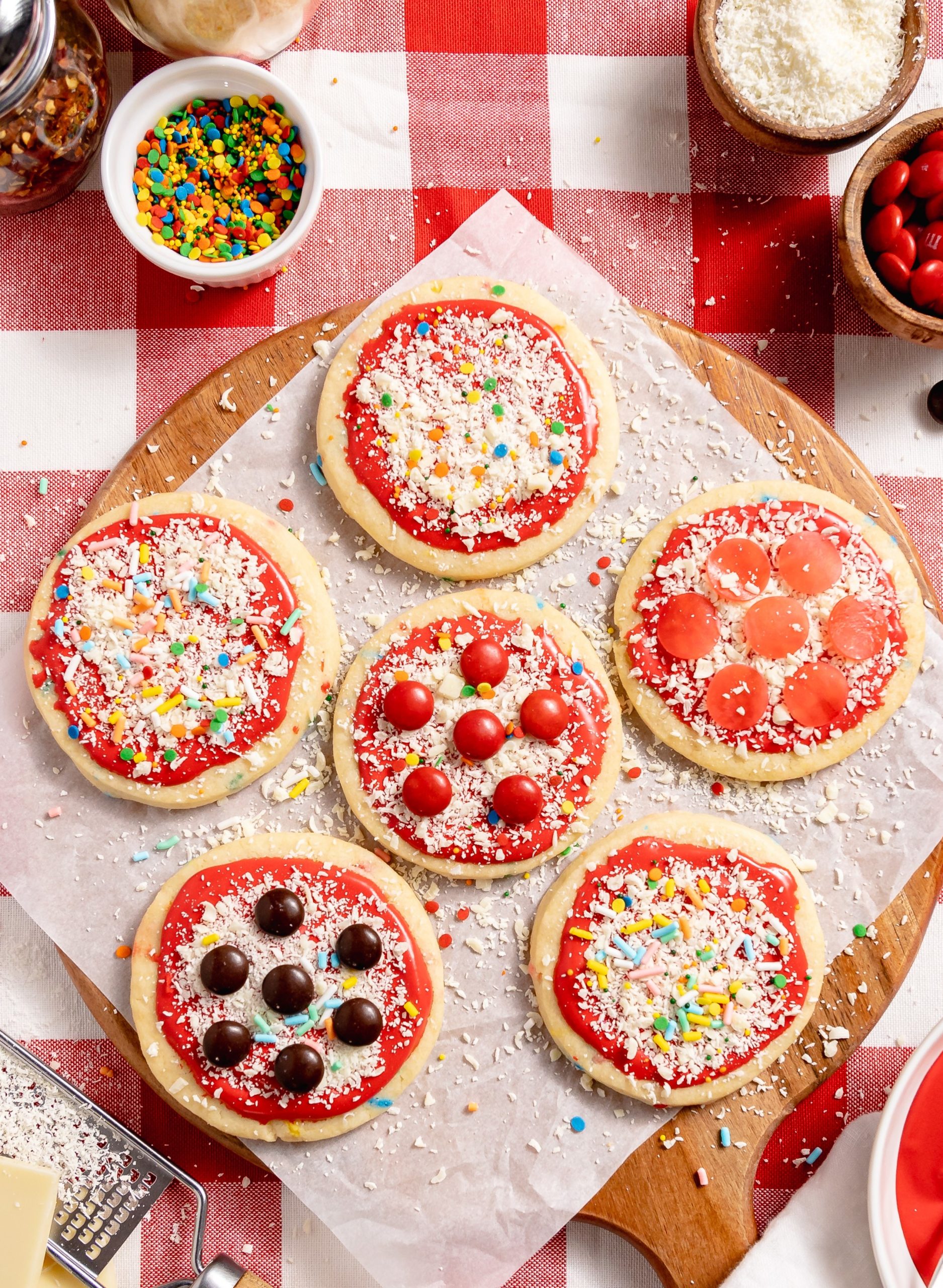 Funfetti® Pizza Cookies Recipe
---
INGREDIENTS
1 box Pillsbury™ Funfetti® Premium Cake Mix
1 tub Pillsbury™ Funfetti® Radiant Red Vanilla Flavored Frosting
3/4 cup unsalted butter, softened
1 large egg
1 teaspoon vanilla extract
2 (1 oz.) squares white baking chocolate, grated
Assorted "toppings": sprinkles from cake mix, miniature jelly beans, chocolate and multi-colored sprinkles, cinnamon red-hots, bright color candy-covered milk chocolates, toffee baking bits, colored sugars
PREPARATION DIRECTIONS
COMBINE cake mix (save sprinkles for topping), butter, egg and vanilla in a large mixing bowl. Beat with an electric mixer on low speed for 1 minute. Dough will be thick. Finish stirring with wooden spoon to combine. Cover bowl with plastic wrap. Refrigerate at least 4 hours or overnight.
Step 2
HEAT oven to 350°F.
Step 3
ROLL out one quarter of the dough at a time on lightly floured surface to 1/4-inch thickness. Cut out 3-inch circles with round cookie cutter or biscuit cutter. Place on ungreased cookie sheet. Repeat with remaining dough quarters, continuing until all dough is used.
Step 4
BAKE 9 to 11 minutes or until lightly browned around edges. Remove from oven. Let cookies cool on cookie sheets 1 minute. Place on wire racks to cool completely.
"PIZZA" DECORATION
Step 1
SPREAD each cooled cookie round with a thin layer of melted frosting for "pizza sauce." Sprinkle with grated white chocolate for the "cheese." Finish decorating with toppings of choice.
Nutritional Information Per Serving
Serving Size (1 cookie (47g) ), Calories 210 (Calories from Fat ), Total Fat 10g (Saturated Fat 6g, Trans Fat 0g), Cholesterol 25mg, Sodium 180 mg, Total Carbohydrate 28g (Dietary Fiber 0g, Sugars 20g, Includes 19g Added Sugars), Protein 1g, Potassium 22mg, thiamine 0mg, Riboflavin 0mg, niacin mg, Folate 0mg, Vitamin B6 0mg, Vitamin B12 0mcg, Vitamin A 0mg, Vitamin C 0mg, Vitamin D 0mg, Calcium 56mg, Iron 0mg.
*Percent Daily Values are based on a 2,000 calorie diet.