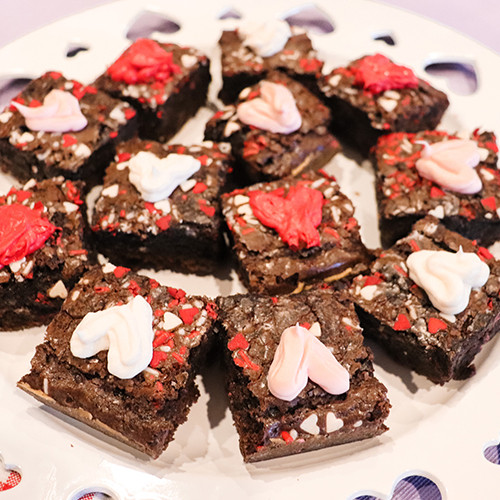 Valentine Heart Brownies
---
INGREDIENTS
PREPARATION DIRECTIONS
Step 1
Heat oven to 350°F. Line a 13 x 9-inch pan with foil, extending foil over edges. Spray foil with no-stick cooking spray.
Step 2
Prepare brownie mix per package directions, adding optional mint extract to batter. Bake for 20-25 minutes or until a toothpick inserted in the center comes out clean. Cool completely on a wire rack.
Step 3
Cut brownies into 15 rectangles. Using a 1-1/2-in. heart-shaped cookie cutter, cut out a heart from the center of each brownie. Reserve cutout centers for another use.
Step 4
Line a baking sheet with parchment. Place brownies on prepared baking sheet.
Step 5
Transfer Pillsbury™ Funfetti® Valentine's Vanilla Flavored Frosting to a piping bag or plastic bag with corner tip cut. Pipe frosting into centers of brownies.
Nutritional Information Per Serving
Serving Size (1 brownie), Calories 290 (Calories from Fat 0), Total Fat 12g (Saturated Fat 2.5g, Trans Fat 0g), Cholesterol 25mg, Sodium 140mg, Total Carbohydrate 43g (Dietary Fiber 0g, Sugars 33g, Includes 33g Added Sugars), Protein 2g, Potassium 0mg, thiamine 0mg, Riboflavin 0mg, niacin 0mg, Folate 0mg, Vitamin B6 0mg, Vitamin B12 0mcg, Vitamin A 0mg, Vitamin C 0mg, Vitamin D 0mg, Calcium 0mg, Iron 1mg.
*Percent Daily Values are based on a 2,000 calorie diet.