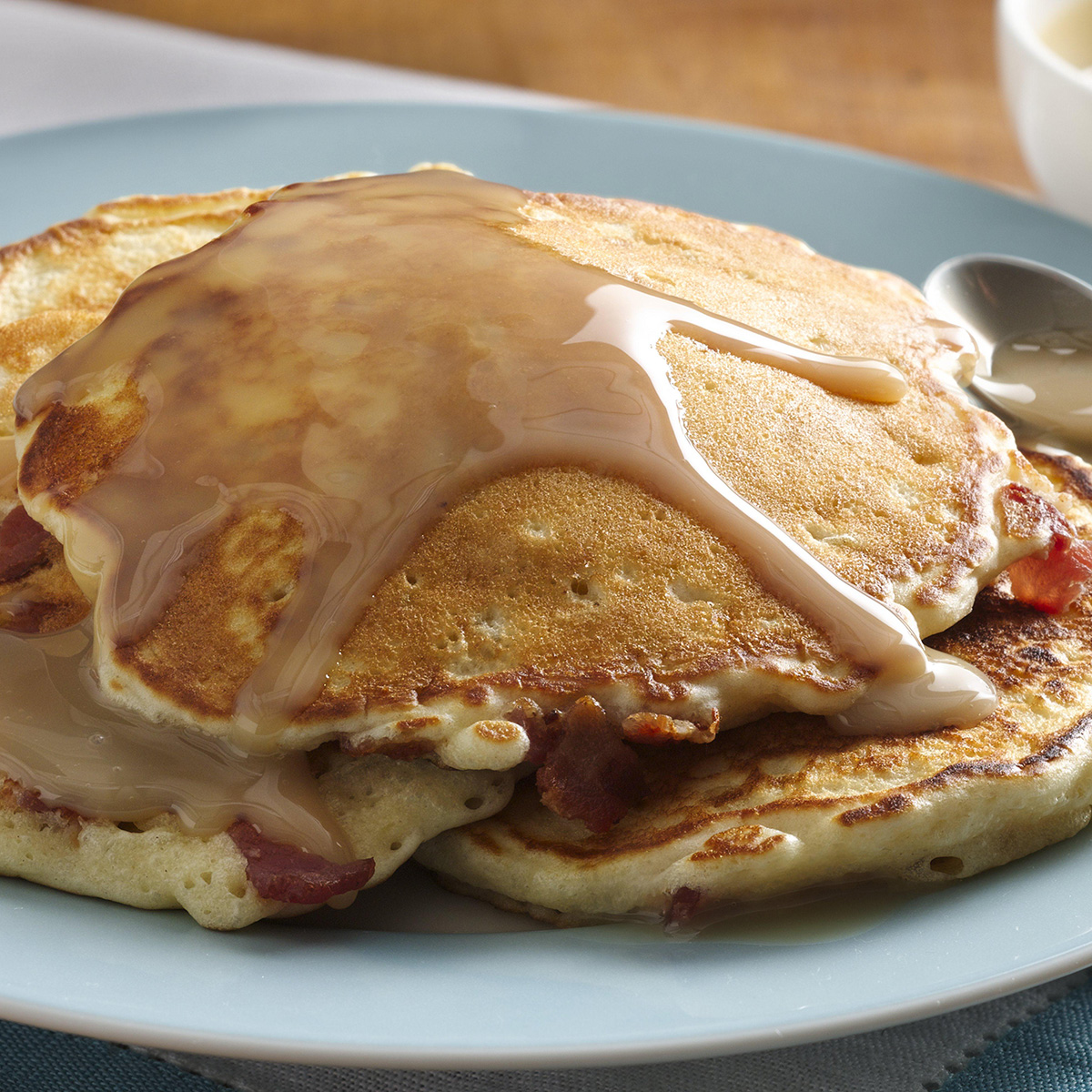 Bacon Corncakes with Warm Maple Cream
---
INGREDIENTS
8 slices bacon
1 (10 oz.) box Green Giant® frozen shoepeg white corn and butter sauce
1 (14 oz.) can Sweetened Condensed Milk
1 egg
1 1/2 cups Pillsbury BEST™ Self Rising Flour
Nonstick cooking spray
2/3 cup maple flavored syrup
PREPARATION DIRECTIONS
Step 1
In 12-inch skillet, cook bacon 8 minutes over medium-high heat or until crispy around edges. Remove from skillet; drain on paper towels. Reserve 1 tablespoon bacon drippings; set aside. Microwave frozen corn as directed on box. Pour into medium bowl; set aside.
Step 2
In blender or food processor, place 1/2 cup of the sweetened condensed milk, 1 cup water, egg and 3 tablespoons of the corn and butter sauce. Cover; blend on high speed 5 to 10 seconds or until smooth.
Step 3
In 2-quart bowl, place milk mixture, flour, bacon drippings and the remaining corn and butter sauce; mix until blended. Set aside. Spray griddle or skillet with no-stick cooking spray. Heat over medium-high heat (375°F). Stir batter, for each corncake, pour about 1/4 cup batter onto griddle. Crumble 1/2 slice cooked bacon over each corncake. Cook 1 to 2 minutes or until bubbly on top and dry around edges. Turn; cook other side until golden brown.
Step 4
Meanwhile, in medium microwavable bowl, mix the remaining sweetened condensed milk and maple-flavored syrup. Microwave on High 30 to 60 seconds, stirring once, or until thoroughly heated. Serve over corncakes.
Bake-Off is a registered trademark of General Mills ©2013 / Pillsbury® and Green Giant® are registered trademarks of General Mills ©2013
Nutritional Information Per Serving
Serving Size (1 serving (1/4 recipe)), Calories 780 (Calories from Fat 150), Total Fat 17g (Saturated Fat 8g, Trans Fat g), Cholesterol 90mg, Sodium 690mg, Total Carbohydrate 136g (Dietary Fiber 3g, Sugars 23g), Protein 21g, Potassium mg, thiamine mg, Riboflavin mg, niacin mg, Folate mg, Vitamin B6 mg, Vitamin B12 mcg, Vitamin A mg, Vitamin C mg, Vitamin D mg, Calcium mg, Iron mg.
*Percent Daily Values are based on a 2,000 calorie diet.