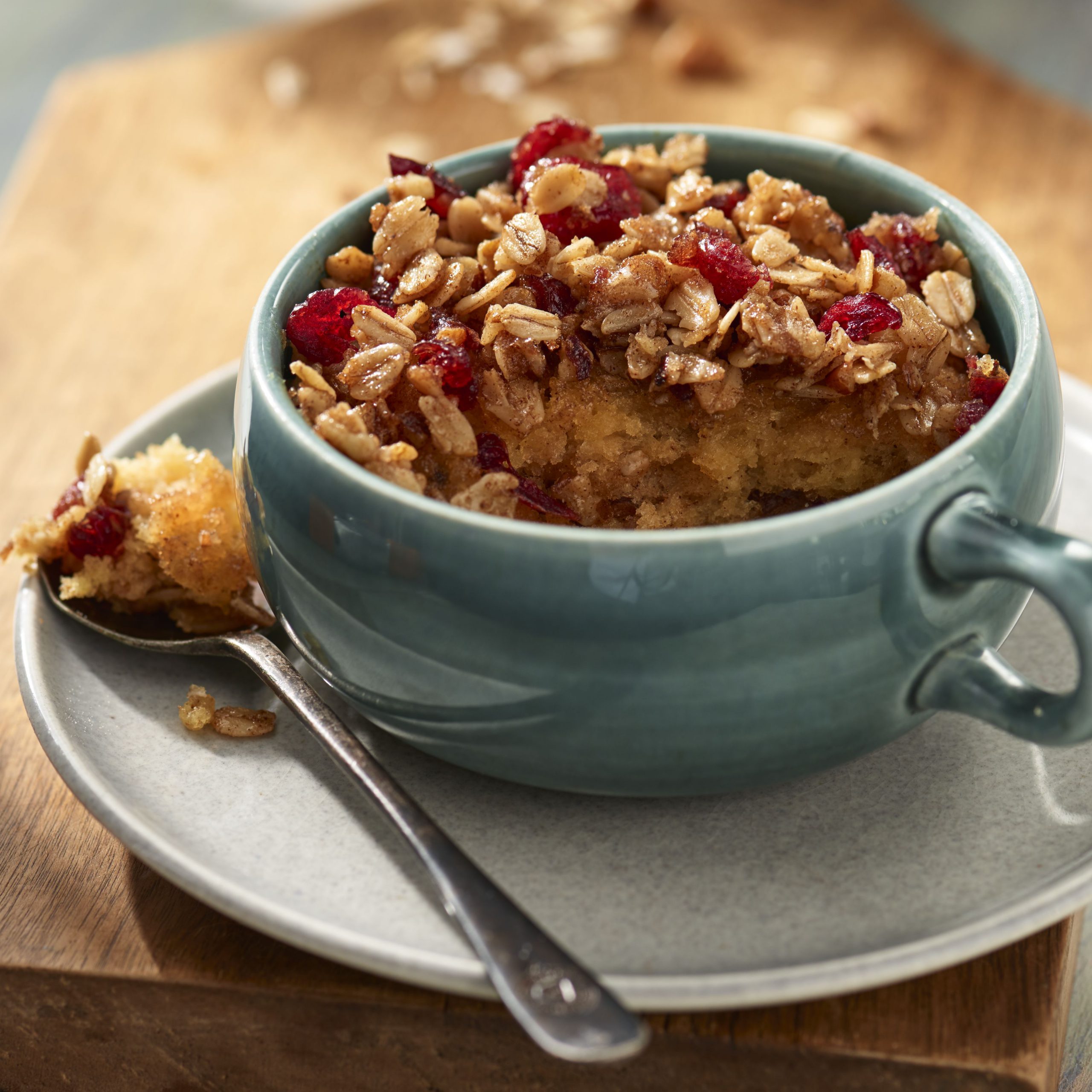 Coffee Cake Mug Cake
---
INGREDIENTS
2 tablespoons quick-cooking or old-fashioned rolled oats
2 tablespoons chopped pecans or walnuts
1 tablespoon firmly packed brown sugar
1 tablespoon butter, softened
1 tablespoon chopped dried fruit of your choice
1/8 teaspoon ground cinnamon
1/3 cup Pillsbury™ Moist Supreme® Yellow Premium Cake Mix
3 tablespoons water
PREPARATION DIRECTIONS
Step 1
COMBINE oats, pecans, brown sugar, butter, dried fruit and cinnamon in small bowl. Stir and mash with fork until blended. Set aside.
Step 2
ADD cake mix and water to a 12-ounce microwave-safe coffee mug. Stir with fork until smooth. Stir in half of oat mixture.
Step 3
MICROWAVE on HIGH 45 seconds. Top evenly with remaining oat mixture. Microwave an additional 45 to 60 seconds or until toothpick inserted in center comes out clean. Cool at least 15 minutes before serving.
Tip
STORE remaining cake mix in resealable plastic bag for future use.
Nutritional Information Per Serving
Serving Size (1 mug cake), Calories 460 (Calories from Fat 210), Total Fat 24g (Saturated Fat 9g, Trans Fat 1g), Cholesterol 30mg, Sodium 420mg, Total Carbohydrate 63g (Dietary Fiber 4g, Sugars 38g), Protein 4g, Potassium mg, thiamine mg, Riboflavin mg, niacin mg, Folate mg, Vitamin B6 mg, Vitamin B12 mcg, Vitamin A mg, Vitamin C mg, Vitamin D mg, Calcium mg, Iron mg.
*Percent Daily Values are based on a 2,000 calorie diet.