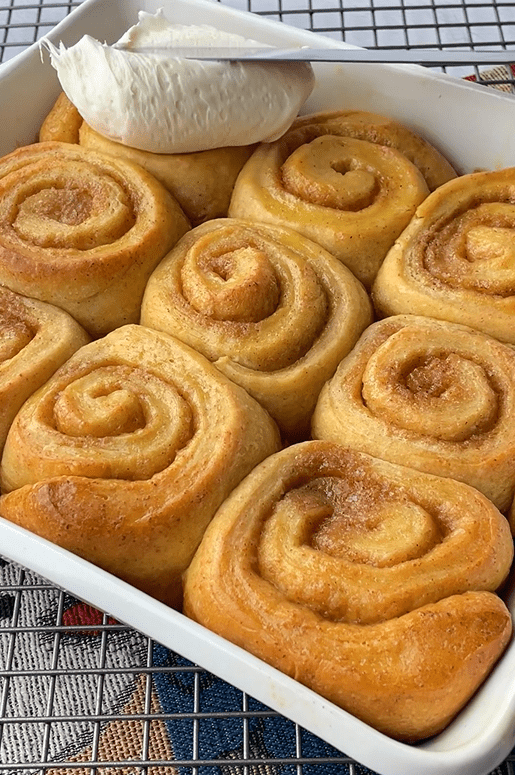 Eggnog Cinnamon Rolls Recipe
---
INGREDIENTS
PREPARATION DIRECTIONS
Step 1
Prepare the roll dough following the introductions on the box. However, you will substitute the half & half for eggnog and add 2 teaspoons of cinnamon. 
Step 2
While the dough is resting, mix all filling ingredients in a separate bowl and set aside.
Step 3
After dough has rested , roll out into a large rectangle and spread the eggnog filling all over. Roll the rectangle into a log and cut 1 inch pieces. Let rolls rise in a warm place until doubled in size then bake according to package instructions.
Step 4
Once baked, brush with eggnog and frost rolls with Pillsbury vanilla frosting.
Nutritional Information Per Serving
Serving Size (1 Roll), Calories (Calories from Fat ), Total Fat g (Saturated Fat g, Trans Fat g), Cholesterol mg, Sodium mg, Total Carbohydrate g (Dietary Fiber g, Sugars g), Protein g, Potassium mg, thiamine mg, Riboflavin mg, niacin mg, Folate mg, Vitamin B6 mg, Vitamin B12 mcg, Vitamin A mg, Vitamin C mg, Vitamin D mg, Calcium mg, Iron mg.
*Percent Daily Values are based on a 2,000 calorie diet.