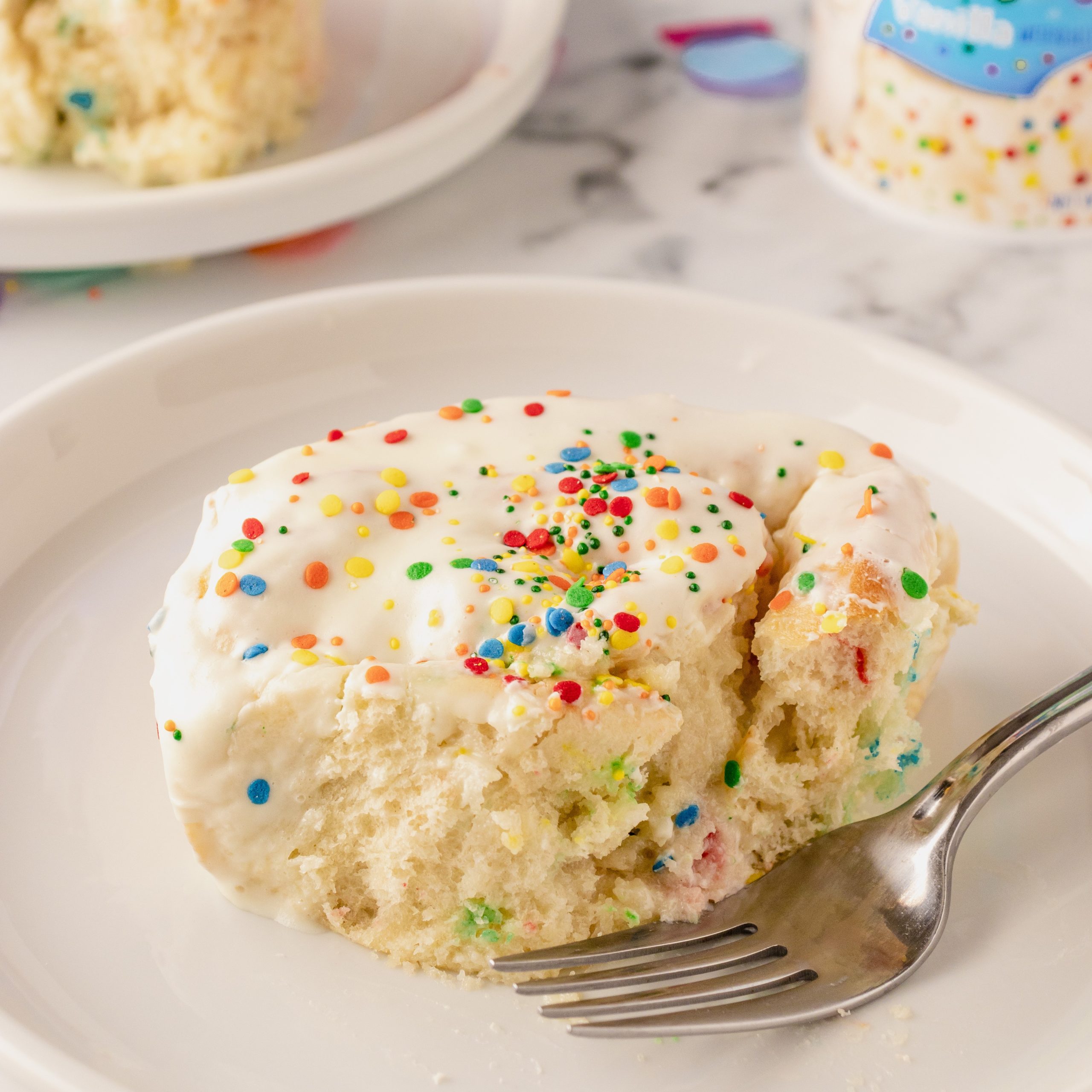 Funfetti® Sweet Rolls
---
INGREDIENTS
PREPARATION DIRECTIONS
DISSOLVE yeast in lukewarm water in a bowl and stir. Let sit for 10 minutes.
Step 2
ADD 1 package Funfetti Vanilla Cake Mix into a large mixing bowl. Pour in yeast and stir until combined. Add in 4 ½ cups of flour, stirring well after each cup of flour has been added. Dust the counter with flour and turn out dough. Knead dough until it is smooth (about 6-8 minutes). Add small amounts of flour in increments to dough as necessary if dough is too sticky.
Step 3
TRANSFER dough to a greased bowl (soft butter or oil) and pat dough with additional grease. Cover with a loose towel and let rise in a warm place for 30 minutes, or until doubled in size. 
Step 4
REMOVE towel from dough and punch kneaded dough until it deflates. For thick rolls, roll entire dough into one square. For smaller sweet rolls, divide dough in half. Spread softened ¼ cup of butter across the rolled out dough.
Step 5
MIX batter for roll filling in a separate bowl and add in 1 package Funfetti Vanilla Cake Mix, 1 stick of melted butter and ½ cup of water. Stir well. If making smaller rolls, divide batter in half. Add batter on top of dough and spread up to 1" from the edge of the dough. Starting on the long end, start to roll the dough, keeping it as tight as possible. 
Step 6
CUT sweet rolls with floss to avoid pinching of the rolls or with a knife. Preheat oven to 375° F.
Grease a 9x13 baking pan with non stick cooking spray. Add sweet rolls to baking pan and cover lightly with a towel again for a second rise of the dough. After 30 minutes or until the rolls have doubled in size, bake in preheated oven for 20 minutes or until golden brown. Remove from oven and let cool for 5 minutes.
Step 7
REMOVE all foil bits from Funfetti Vanilla Frosting container. Microwave for 30 seconds or until melted. Pour frosting over sweet rolls and add sprinkles from frosting container.
Nutritional Information Per Serving
Serving Size (1 Roll (72g)), Calories 220 (Calories from Fat ), Total Fat 7g (Saturated Fat 3.5g, Trans Fat 0g), Cholesterol 20mg, Sodium 180mg, Total Carbohydrate 36g (Dietary Fiber 1g, Sugars 19g, Includes 18g Added Sugars), Protein 3g, Potassium 39mg, thiamine 0mg, Riboflavin 0mg, niacin mg, Folate 0mg, Vitamin B6 0mg, Vitamin B12 0mcg, Vitamin A 0mg, Vitamin C 0mg, Vitamin D 0mg, Calcium 59mg, Iron 1mg.
*Percent Daily Values are based on a 2,000 calorie diet.