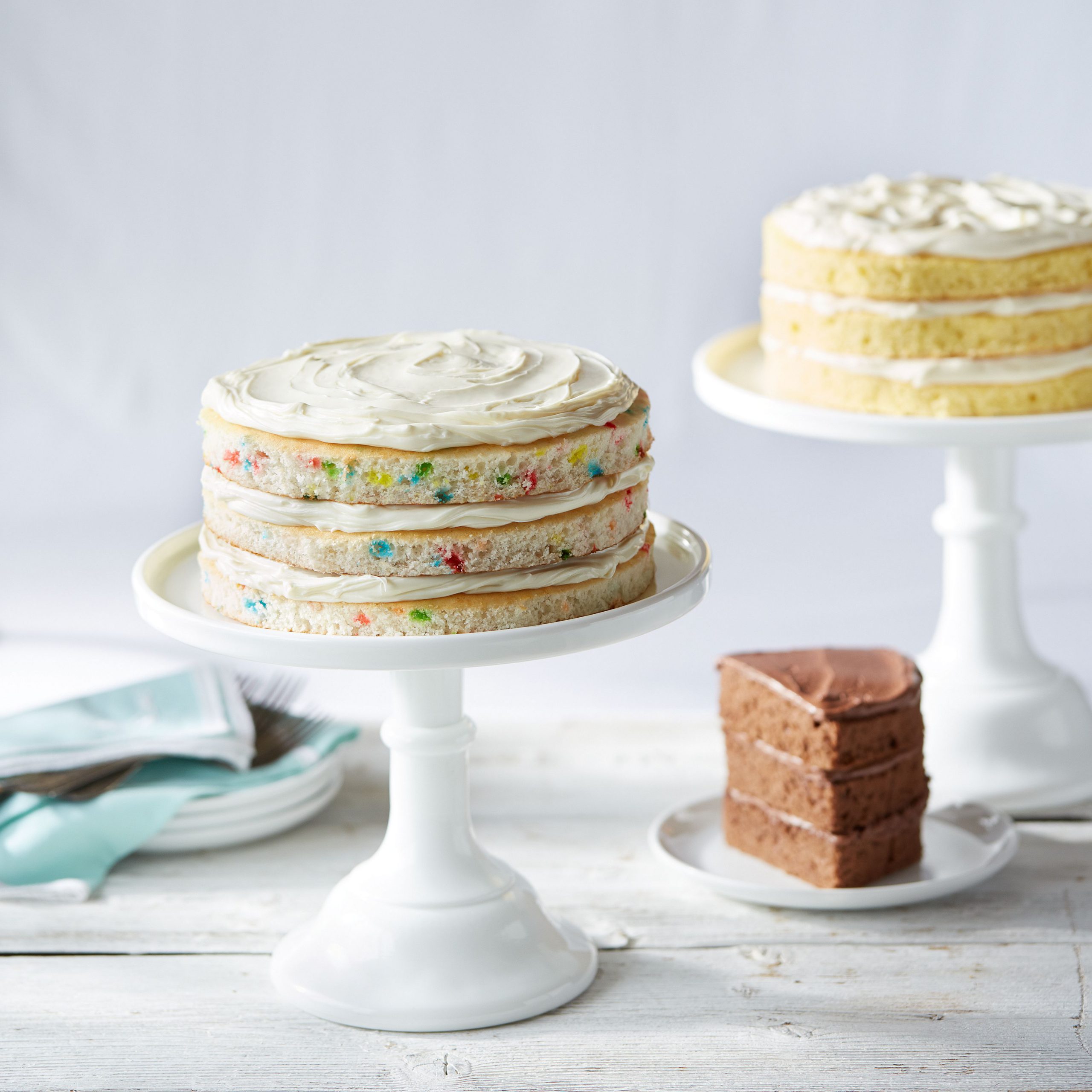 Funfetti® Layer Cake
---
INGREDIENTS
PREPARATION DIRECTIONS
Step 1
HEAT oven to 350°F. Coat 3 (8-inch) round cake pans with no-stick cooking spray. Dust with flour or gluten free flour blend. Prepare cake mix according to package directions using water, oil and eggs. Divide evenly into prepared pans. Bake 13 to 16 minutes or until toothpick inserted into center comes out clean. Cool 5 minutes. Remove from pans to wire rack to cool completely.
Step 2
BEAT cream in large bowl with electric mixer on high speed until soft peaks form. Beat in frosting until evenly blended.
Step 3
LEVEL cake layers, if desired. Place one cake layer on serving plate. spread top with 1/3 of frosting mixture. Top with second cake layer. Spread top with half of remaining frosting mixture. Top with remaining cake layer. Spread with remaining frosting mixture. Decorate with candy bits from frosting, as desired.
Tip*
For a decorative touch, place an open-top cookie cutter on top center of cake. Fill with candy bits from frosting or other gluten free decorator sprinkles to form a thin even layer. Remove cookie cutter.
Nutritional Information Per Serving
Serving Size (1 slice), Calories 290 (Calories from Fat 140), Total Fat 16g (Saturated Fat 7g, Trans Fat g), Cholesterol 50mg, Sodium 220mg, Total Carbohydrate 35g (Dietary Fiber 1g, Sugars 26g), Protein 2g, Potassium mg, thiamine mg, Riboflavin mg, niacin mg, Folate mg, Vitamin B6 mg, Vitamin B12 mcg, Vitamin A mg, Vitamin C mg, Vitamin D mg, Calcium mg, Iron mg.
*Percent Daily Values are based on a 2,000 calorie diet.