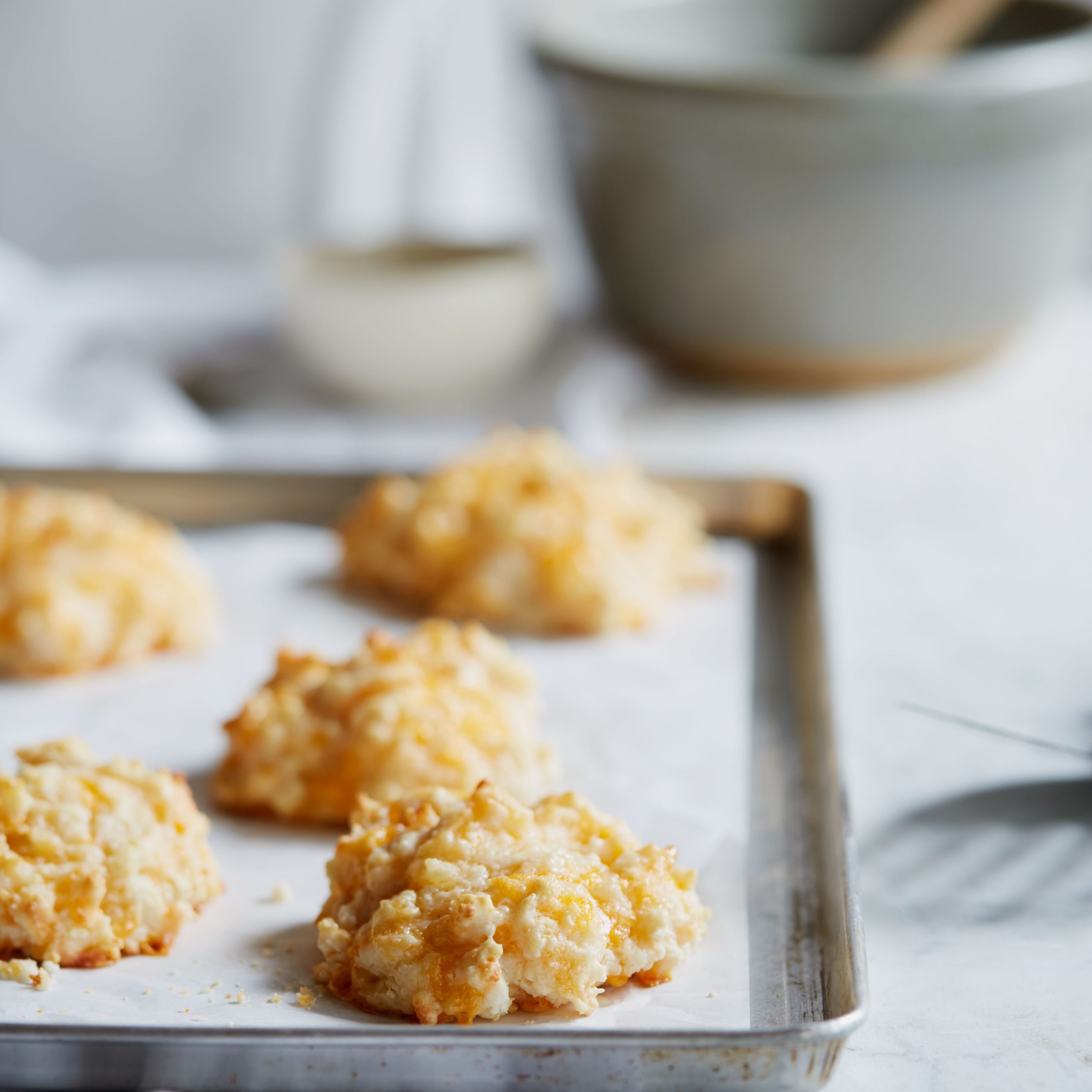 Garlic-Cheese Drop Biscuits
---
INGREDIENTS
Nonstick cooking spray
2 cups Pillsbury BEST™ Self Rising Flour
1 1/4 teaspoons garlic powder
1/2 teaspoon salt
1/4 cup All-Vegetable Shortening
1 cup finely shredded sharp Cheddar cheese
2/3 cup milk
3 tablespoons butter, melted
PREPARATION DIRECTIONS
Step 1
HEAT oven to 450°F. Coat baking sheet with no-stick cooking spray.
Step 2
PLACE flour in medium bowl. Stir in garlic powder and salt. Cut in shortening using pastry blender or two knives until crumbs are the size of peas. Add cheese and milk, stirring with fork just until moistened. Drop by mounded tablespoonfuls onto prepared baking sheet.
Step 3
BAKE 11 to 14 minutes or until golden brown. Generously brush butter over biscuits. Serve warm.
Nutritional Information Per Serving
Serving Size (1 of 18 biscuits), Calories 120 (Calories from Fat 60), Total Fat 7g (Saturated Fat 4g, Trans Fat g), Cholesterol 10mg, Sodium 250mg, Total Carbohydrate 11g (Dietary Fiber g, Sugars 1g), Protein 3g, Potassium 35mg, thiamine mg, Riboflavin mg, niacin mg, Folate mg, Vitamin B6 mg, Vitamin B12 mcg, Vitamin A mg, Vitamin C mg, Vitamin D mg, Calcium 91mg, Iron 1mg.
*Percent Daily Values are based on a 2,000 calorie diet.