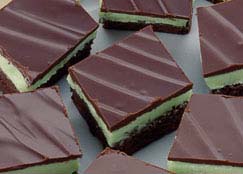 Grasshopper Brownies Supreme
---
INGREDIENTS
1 box Pillsbury™ Family Size Chocolate Fudge Brownie Mix
Additional ingredients to prepare brownie mix per package instructions
1/2 cup butter, softened
3 ounces cream cheese, softened
2 1/2 cups powdered sugar
1 teaspoon mint extract
2 to 4 drops green food color
1 cup semi-sweet chocolate chips
1/3 cup butter
PREPARATION DIRECTIONS
Step 1
PREPARE brownie mix according to package directions using oil, water and eggs. Bake in 13 x 9-inch baking pan according to package directions. Cool completely.
Step 2
BEAT 1/2 cup butter and cream cheese in medium bowl until light and fluffy. Add powdered sugar, mint extract and food color. Beat until smooth. Spread evenly over cooled brownies.
Step 3
PLACE chocolate chips and 1/3 cup butter in small microwave-safe bowl. Microwave on HIGH 30 to 45 seconds or until melted and smooth when stirred. Drizzle evenly over filling. Spread carefully to cover. Chill at least 1 hour before serving.
Nutritional Information Per Serving
Serving Size (1 brownie of 48), Calories 150 (Calories from Fat 70), Total Fat 8g (Saturated Fat 4g, Trans Fat g), Cholesterol 20mg, Sodium 70mg, Total Carbohydrate 18g (Dietary Fiber 1g, Sugars 15g), Protein 1g, Potassium mg, thiamine mg, Riboflavin mg, niacin mg, Folate mg, Vitamin B6 mg, Vitamin B12 mcg, Vitamin A mg, Vitamin C mg, Vitamin D mg, Calcium mg, Iron mg.
*Percent Daily Values are based on a 2,000 calorie diet.