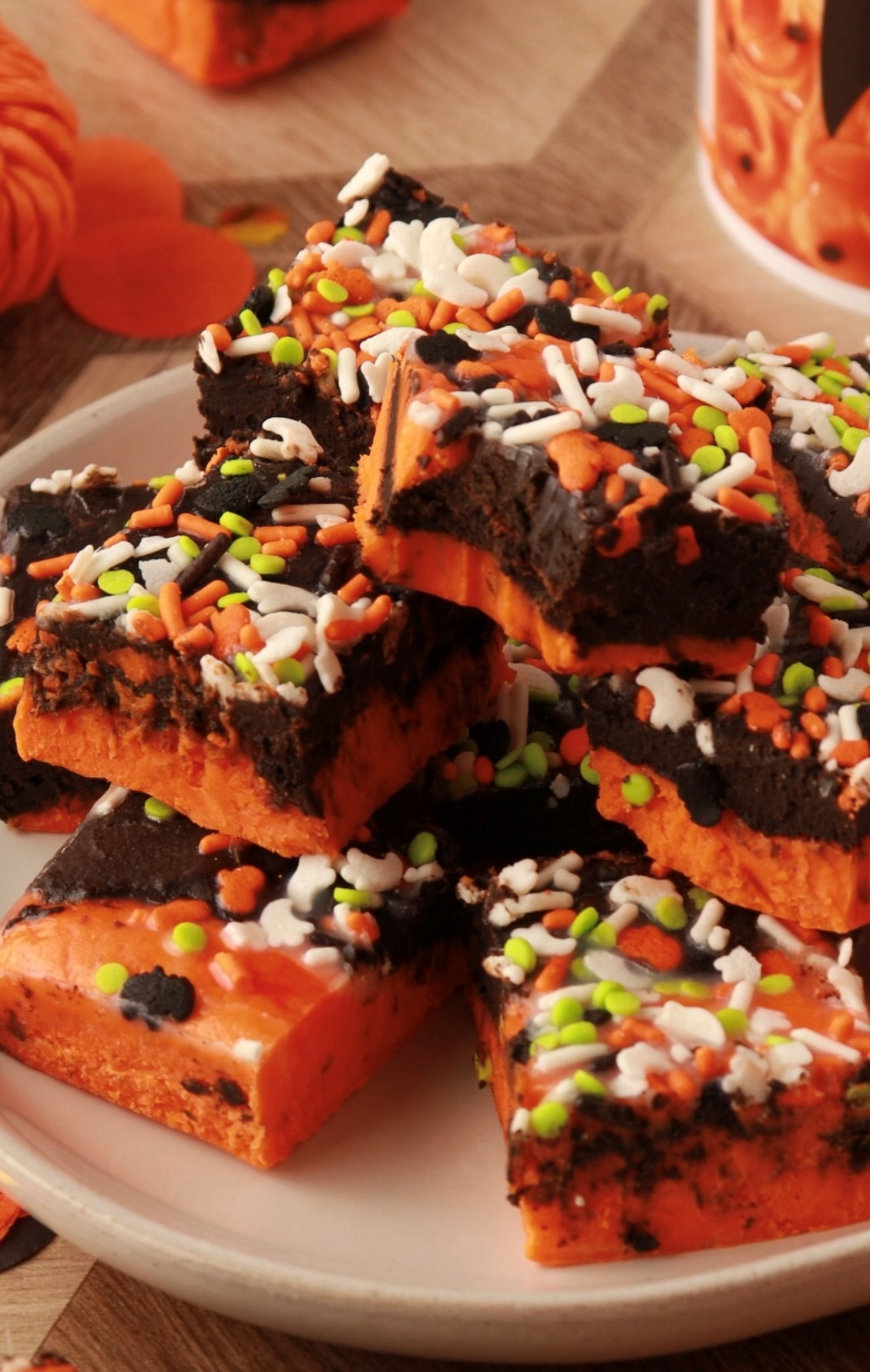 Halloween Fudge Recipe
---
INGREDIENTS
PREPARATION DIRECTIONS
Step 1
POUR milk chocolate chips and white chocolate chips into two microwave safe bowls. Add 2 Tbsp. of shortening to each bowl. Microwave each for 1 minute, until chocolate is fully melted, in 30 second intervals, stirring in between. 
Step 2
REMOVE all foil bits from both frosting tubs. Microwave each frosting tub for 30 seconds or until melted and pourable.
Step 3
ADD melted Funfetti Halloween Frosting tub to the melted white chocolate chips. Add melted Funfetti Midnight Black Frosting to the melted milk chocolate chips. 
Step 4
LINE an 8x8 baking pan with parchment and spray with non-stick cooking spray if desired. Add frosting/chocolate mixture. Top with sprinkles from both frosting lids. Cover with another piece of parchment or plastic wrap, and press down to smooth the surface. Transfer to fridge or freezer until firm (at least one hour). 
Step 5
LOOSEN the edges with a knife (run it under hot water, then dry for a cleaner cut). Use parchment edges to lift the fudge, then slice into pieces.
Nutritional Information Per Serving
Serving Size (1 square), Calories (Calories from Fat ), Total Fat g (Saturated Fat g, Trans Fat g), Cholesterol mg, Sodium mg, Total Carbohydrate g (Dietary Fiber g, Sugars g), Protein g, Potassium mg, thiamine mg, Riboflavin mg, niacin mg, Folate mg, Vitamin B6 mg, Vitamin B12 mcg, Vitamin A mg, Vitamin C mg, Vitamin D mg, Calcium mg, Iron 0mgmg.
*Percent Daily Values are based on a 2,000 calorie diet.