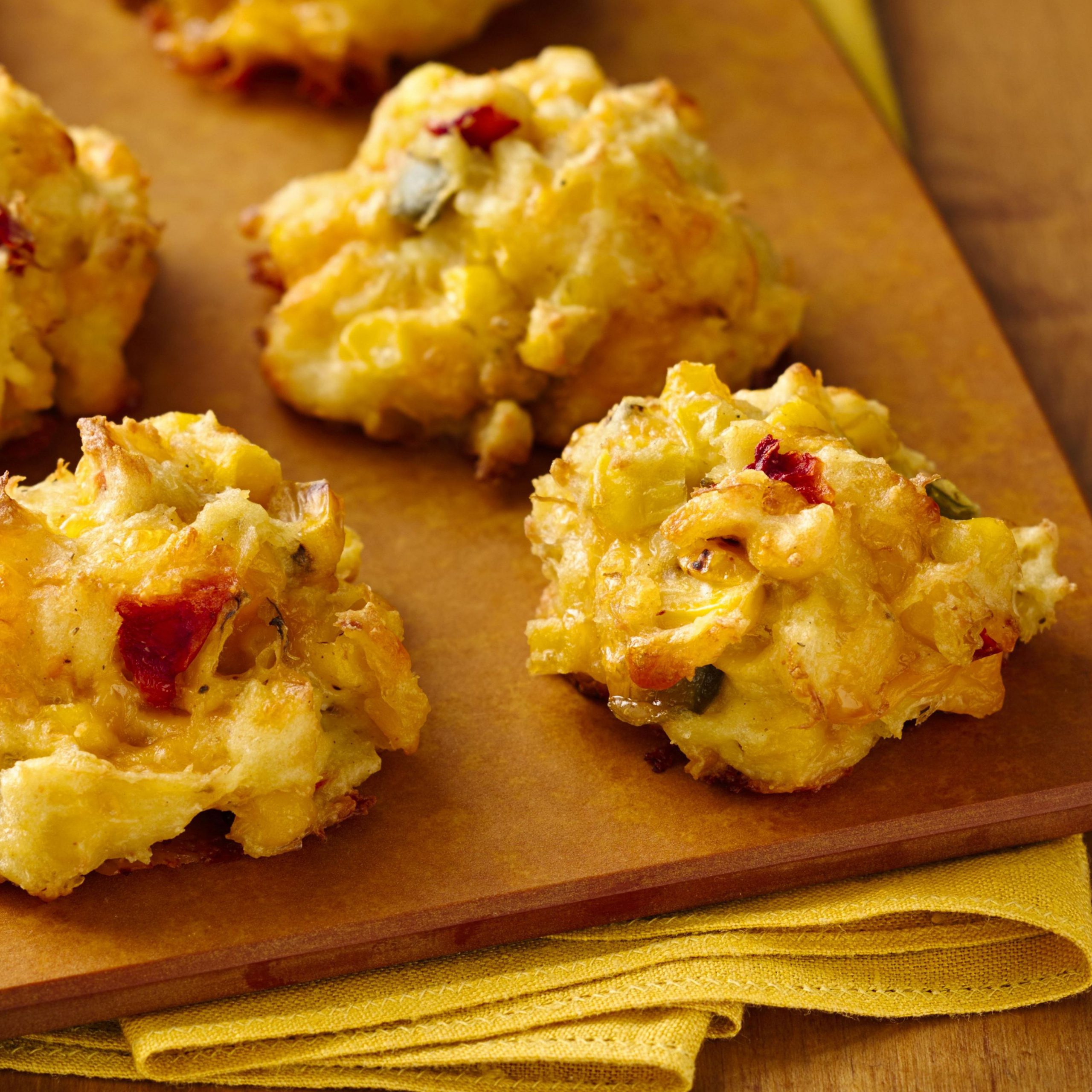 Yield
24 two-puff servings
Honey Roasted Corn and Crab Puffs
---
INGREDIENTS
1 (11.8 oz.) bag Green Giant® Seasoned Steamers frozen honey roasted corn
6 tablespoons butter
3/4 cup Pillsbury BEST™ Self Rising Flour
3 eggs
6 ounces fresh lump crabmeat or 1 can (6 oz.) can lump crabmeat, drained
1 1/4 cups shredded Cheddar cheese (5 oz.)
1 teaspoon seafood seasoning (from 6-oz. container)
PREPARATION DIRECTIONS
Step 1
Heat oven to 425F. Line large cookie sheets with parchment paper. Microwave frozen corn as directed on bag, 2 to 3 minutes to thaw. Set aside.
Step 2
In 2-quart saucepan, heat 3/4 cup water and the butter to boiling over medium-high heat. With wooden spoon, stir in flour. Reduce heat to low; beat vigorously about 1 minutes or until mixture forms a ball. Remove from heat. Beat in 1 egg at a time, beating vigorously after each addition until mixture is smooth and glossy. Gently stir in corn, crabmeat, cheese and seafood seasoning.
Step 3
Drop dough by rounded tablespoonfuls 1 inch apart on cookie sheets.
Step 4
Bake 12 to 15 minutes or until puffed and edges are golden brown. Serve warm.
Bake-Off is a registered trademark of General Mills ©2013 / Green Giant® is a registered trademark of General Mills ©2013
Nutritional Information Per Serving
Serving Size (1 serving (2 puffs)), Calories 90 (Calories from Fat 50), Total Fat 6g (Saturated Fat 4g, Trans Fat g), Cholesterol 45mg, Sodium 200mg, Total Carbohydrate 5g (Dietary Fiber g, Sugars g), Protein 4g, Potassium mg, thiamine mg, Riboflavin mg, niacin mg, Folate mg, Vitamin B6 mg, Vitamin B12 mcg, Vitamin A mg, Vitamin C mg, Vitamin D mg, Calcium 6mg, Iron mg.
*Percent Daily Values are based on a 2,000 calorie diet.