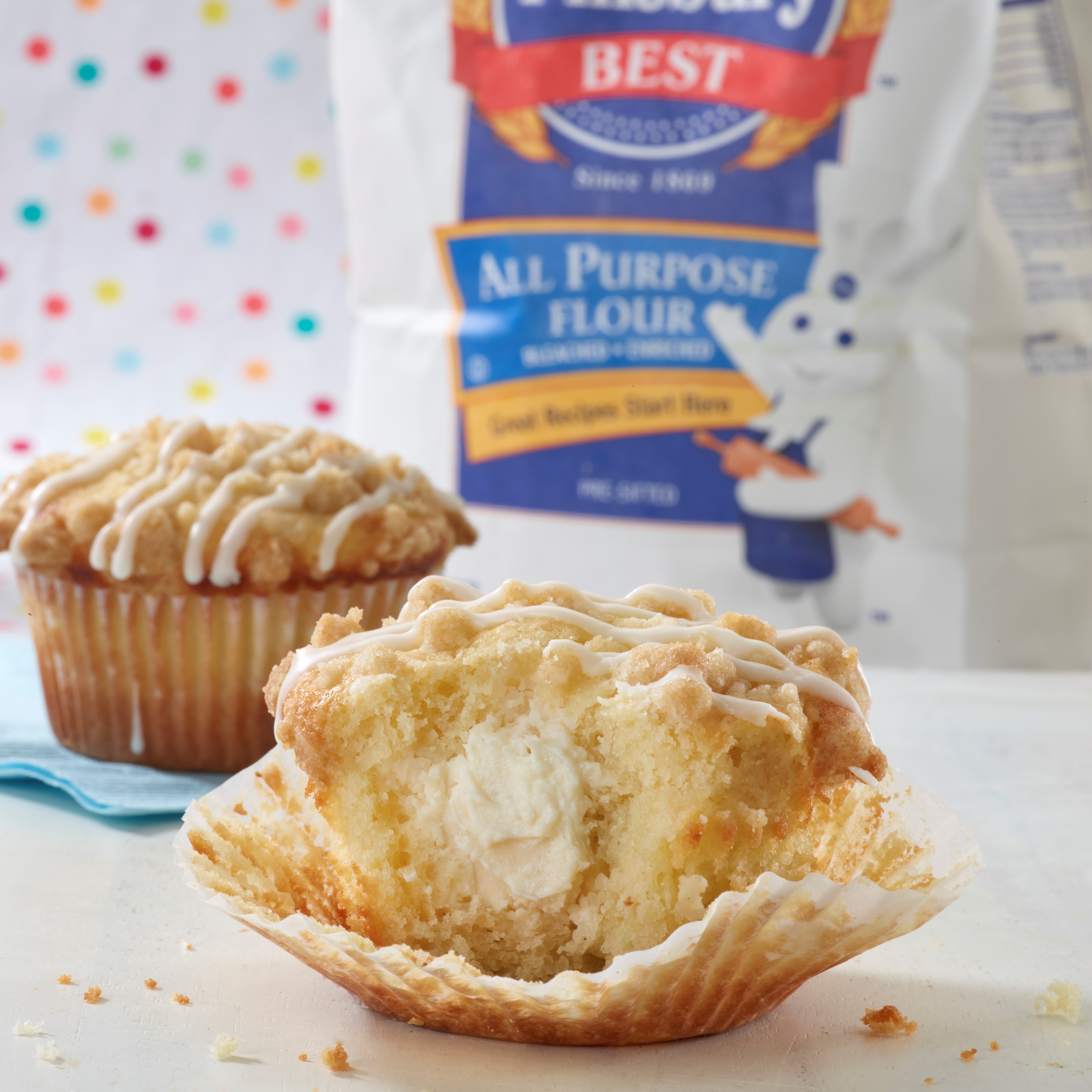 Lemon Cream Cheese Filling Muffins
---
INGREDIENTS
Crumb Topping
1/2 cup Pillsbury BEST™ All Purpose Flour
2 tablespoons packed light brown sugar
2 tablespoons sugar
1/4 teaspoon salt
3 tablespoons unsalted butter, melted
Cream Cheese Filling
6 ounces cream cheese, softened
1/4 cup powdered sugar
1/2 teaspoon vanilla extract
Muffin Batter
1-1/2 cups Pillsbury BEST™ All Purpose Flour
1/2 teaspoon baking powder
1/4 teaspoon baking soda
1/4 teaspoon salt
6 tablespoons unsalted butter, softened
3/4 cup sugar
2 eggs
Zest and juice of 1 lemon
1 teaspoon vanilla extract
1 teaspoon lemon extract
2/3 cup sour cream
Glaze
2 ounces cream cheese, softened
3/4 cup powdered sugar
1-2 tablespoons lemon juice
PREPARATION DIRECTIONS
Step 1
Heat oven to 400℉.
Step 2
Line a muffin pan with paper cups.
Step 3
Make crumb topping by stirring together flour, sugar, brown sugar, and salt. Add melted butter and stir until coarse crumbs form. Set aside.
Step 4
Make cream cheese filling by stirring together softened cream cheese, powdered sugar, and vanilla extract until well combined. Put into a zip top bag, close, and snip the corner to make a 1/2 inch opening.
Step 5
For muffin batter, stir together flour, baking powder, baking soda and salt. In a large mixing bowl, beat butter and sugar until light and fluffy. Add eggs one at a time, scraping down the bottom and sides of the bowl and beating until well combined in between each egg. Add lemon zest, and vanilla and lemon extracts and beat together. With mixer on low speed, add sour cream and 2 tablespoons lemon juice and beat until well combined. Reserve any remaining lemon juice for glaze. Add the dry ingredients on low speed, scraping down the bottom and sides of the bowl as needed until ingredients are just combined.
Step 6
Place a heaping tablespoon of muffin batter into each baking cup and use a spoon to spread to edges; the batter will be thick.
Step 7
Pipe about 1 tablespoon of cream cheese filling into the center of each baking cup.
Step 8
Cover cream cheese filling with another heaping tablespoon of muffin batter, using a spoon to completely cover. Baking cups will be nearly full.
Step 9
Sprinkle tops of muffins generously with crumb topping.
Step 10
Bake 19-22 minutes, or until tops of muffins are lightly golden and the centers feel set.
Step 11
Cool in pan on cooling grid for 10-15 minutes. Remove from pan and cool completely.
Step 12
To make glaze, microwave cream cheese in 10 second intervals until melted. Whisk in powdered sugar and lemon juice. Drizzle over cooled muffins.
Nutritional Information Per Serving
Serving Size (1 muffin), Calories 310 (Calories from Fat ), Total Fat 12gg (Saturated Fat 7gg, Trans Fat 0g), Cholesterol 65mgmg, Sodium 200mgmg, Total Carbohydrate 45gg (Dietary Fiber 0g, Sugars 28gg, Includes 27gg Added Sugars), Protein 5gg, Potassium 32mgmg, thiamine mg, Riboflavin mg, niacin mg, Folate mg, Vitamin B6 mg, Vitamin B12 mcg, Vitamin A mg, Vitamin C mg, Vitamin D 0mg, Calcium 63mgmg, Iron 1mgmg.
*Percent Daily Values are based on a 2,000 calorie diet.