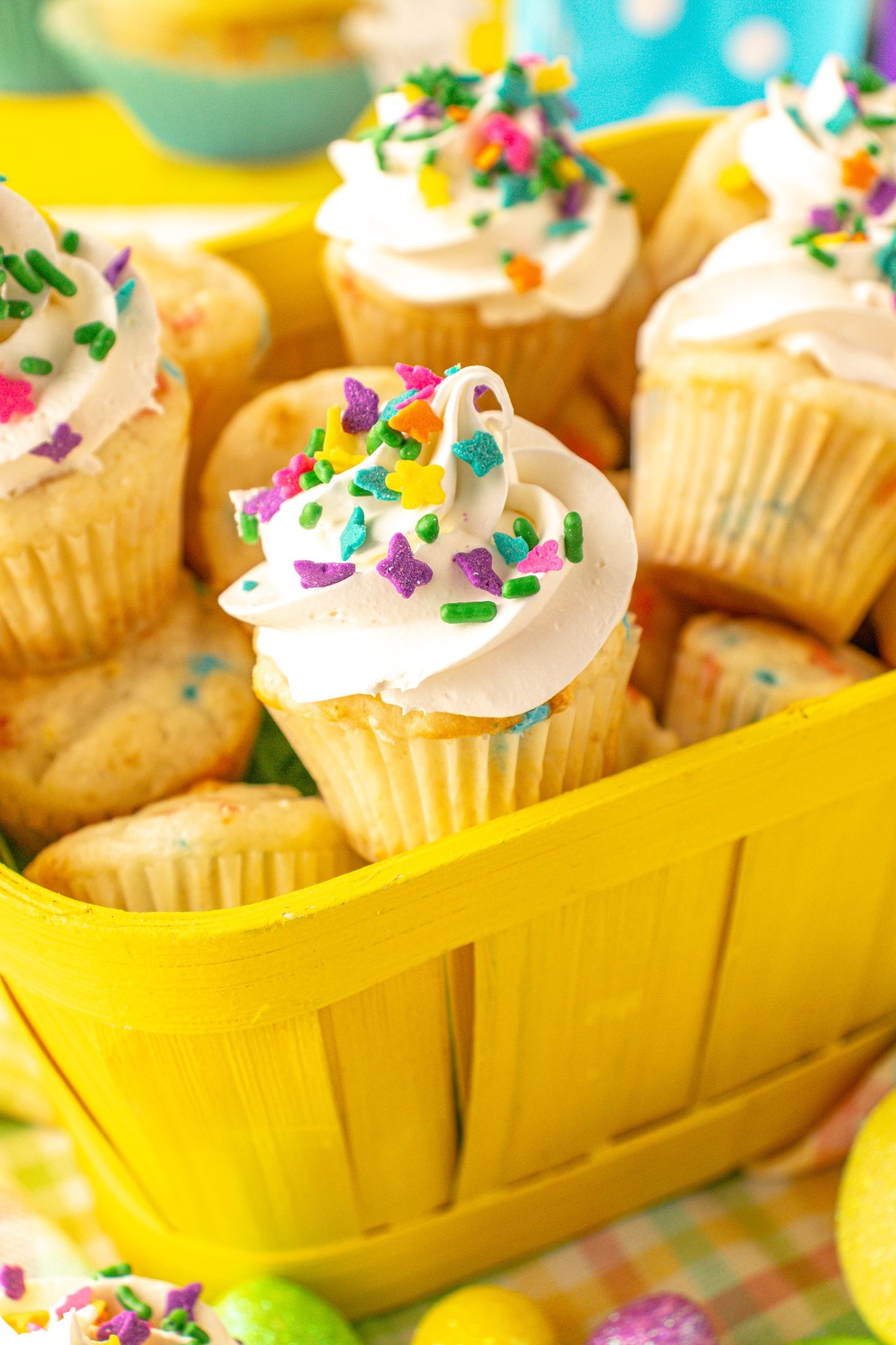 Mini Funfetti® Easter Muffins Recipe
---
INGREDIENTS
1 box Pillsbury™ Funfetti® Spring Cake Mix⁠
1 ¼ cups water
1 small non-fat greek yogurt (5.3 oz.)
Frozen lite whipping cream (8 oz.)
½ cup powdered sugar
Sprinkles from Funfetti Spring frosting tub
Piping bag
Open star piping tip (1M)
PREPARATION DIRECTIONS
Step 1
PREHEAT oven to 350° F. In a medium bowl, stir cake mix, water and yogurt until batter is smooth. 
Step 2
LINE a mini muffin tin with mini muffin liners. If desired, spray muffin liners lightly with non-stick cooking spray for easy removal. Add 1 Tbsp. of batter to each muffin cavity. 
Step 3
BAKE for 14-17 minutes, until golden brown and a toothpick inserted into the center comes out clean. Let muffins cool completely.
Step 4
MIX thawed frozen whipped topping with powdered sugar with a hand mixer until desired consistency is reached. Spoon into piping bag fitted with piping tip. Pipe onto muffins and top with Funfetti sprinkles.
Nutritional Information Per Serving
Serving Size (2 mini muffins (22g)), Calories 80 (Calories from Fat ), Total Fat 1.5g (Saturated Fat 1g, Trans Fat 0g), Cholesterol 5mg, Sodium 105mg, Total Carbohydrate 15g (Dietary Fiber 0g, Sugars 8g, Includes 8g Added Sugars), Protein 1g, Potassium 16mg, thiamine 0mg, Riboflavin 0mg, niacin mg, Folate 0mg, Vitamin B6 0mg, Vitamin B12 0mcg, Vitamin A 0mg, Vitamin C 0mg, Vitamin D 0mg, Calcium 26mg, Iron 0mg.
*Percent Daily Values are based on a 2,000 calorie diet.