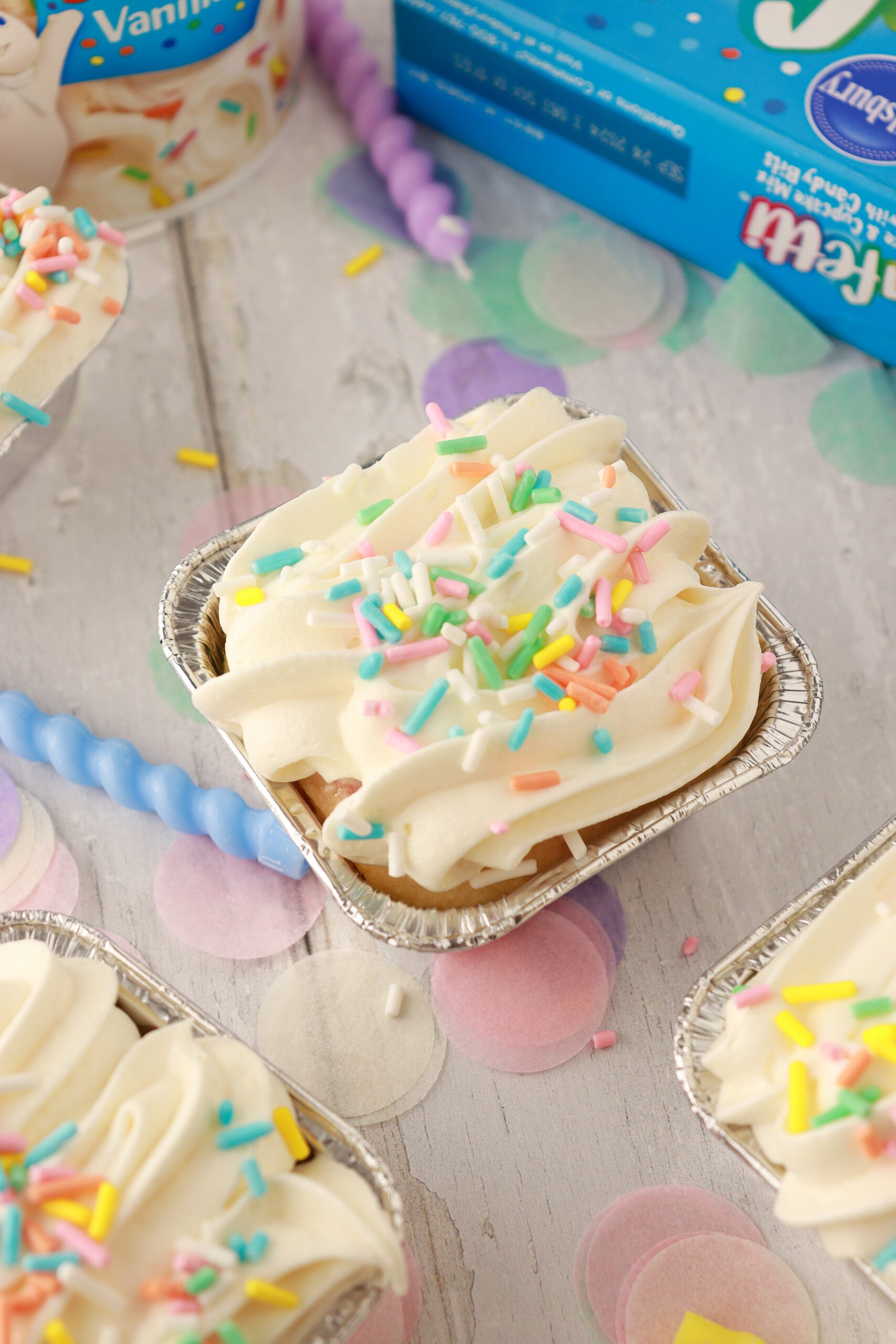 Funfetti® Mini Tres Leches Cakes
---
INGREDIENTS
Cake:
1 box Pillsbury™ Funfetti® Premium Cake and Cupcake Mix
Additional ingredients to prepare cake mix per box directions⁠
Mini square aluminum foil baking pans (3")
Filling:
1 can sweetened condensed milk (14 oz.)
1 can evaporated milk (12 oz.)
1 cup heavy whipping cream
Topping:
1 tub Pillsbury™ Funfetti® Vanilla Flavored Frosting
1 container frozen whipped topping (8 oz.) (thawed) 
Piping bag
Piping tip (number 1M)
PREPARATION DIRECTIONS
Step 1 
PREPARE cake mix according to box instructions. Grease each mini pan with nonstick cooking spray. Fill each pan halfway with batter. Bake at 350°F for 10-12 minutes or until lightly golden brown and a toothpick inserted comes out clean. 
Step 2
MIX condensed milk, evaporated milk and heavy cream in a large measuring cup or bowl. Using a fork, poke holes into each mini cake. Pour filling into each mini cake and let sit on the counter for 20 more minutes. Then, transfer to the refrigerator and chill for at least one hour or overnight if desired. 
Step 3
ADD tub of Funfetti frosting to a medium bowl. Beat on medium speed for 1 minute with hand mixer until frosting is whipped. Add thawed whipped topping, folding in gradually with a flat spatula. Add frosting/whipped cream mixture to a piping bag fitted with an open star piping tip (number 1M). Remove cake from fridge and pipe desired designs across the cake. Top with sprinkles from frosting lid. 
Nutritional Information Per Serving
Calories (Calories from Fat ), Total Fat g (Saturated Fat g, Trans Fat g), Cholesterol mg, Sodium mg, Total Carbohydrate g (Dietary Fiber g, Sugars g), Protein g, Potassium mg, thiamine mg, Riboflavin mg, niacin mg, Folate mg, Vitamin B6 mg, Vitamin B12 mcg, Vitamin A mg, Vitamin C mg, Vitamin D mg, Calcium mg, Iron mg.
*Percent Daily Values are based on a 2,000 calorie diet.