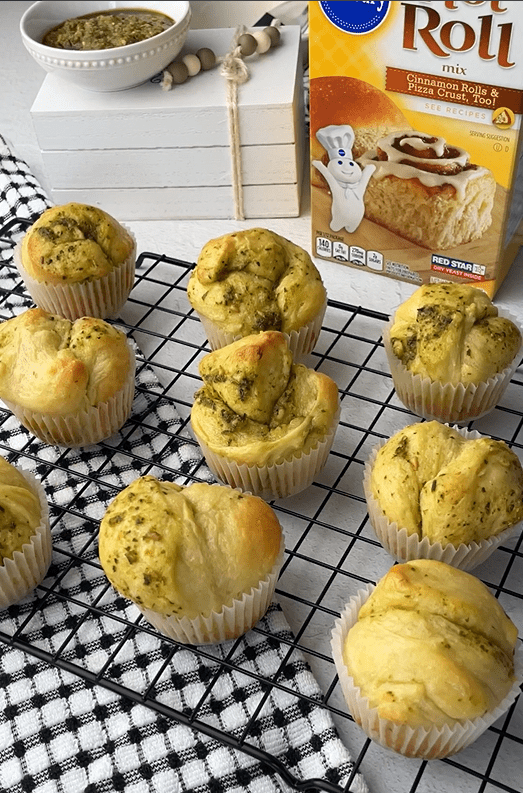 Pesto Hot Mix Rolls Recipe
---
INGREDIENTS
1 box Pillsbury™ Hot Roll Mix
Additional ingredients according to package instructions
1/3 cup prepare pesto
Cupcake Liners
PREPARATION DIRECTIONS
Step 1
Preheat the oven to 350°F. Prepare the hot roll dough according to the box instructions.
Step2
Roll out the dough flat and brush with pesto sauce. Fold dough in half. Roughly chop the dough into 3 inch pieces. Twist a 3 inch piece and place it in the muffin liner.
Step 3
Bake rolls for 20 minutes or until the bread is golden brown.
Nutritional Information Per Serving
Calories (Calories from Fat ), Total Fat g (Saturated Fat g, Trans Fat g), Cholesterol mg, Sodium mg, Total Carbohydrate g (Dietary Fiber g, Sugars g), Protein g, Potassium mg, thiamine mg, Riboflavin mg, niacin mg, Folate mg, Vitamin B6 mg, Vitamin B12 mcg, Vitamin A mg, Vitamin C mg, Vitamin D mg, Calcium mg, Iron mg.
*Percent Daily Values are based on a 2,000 calorie diet.