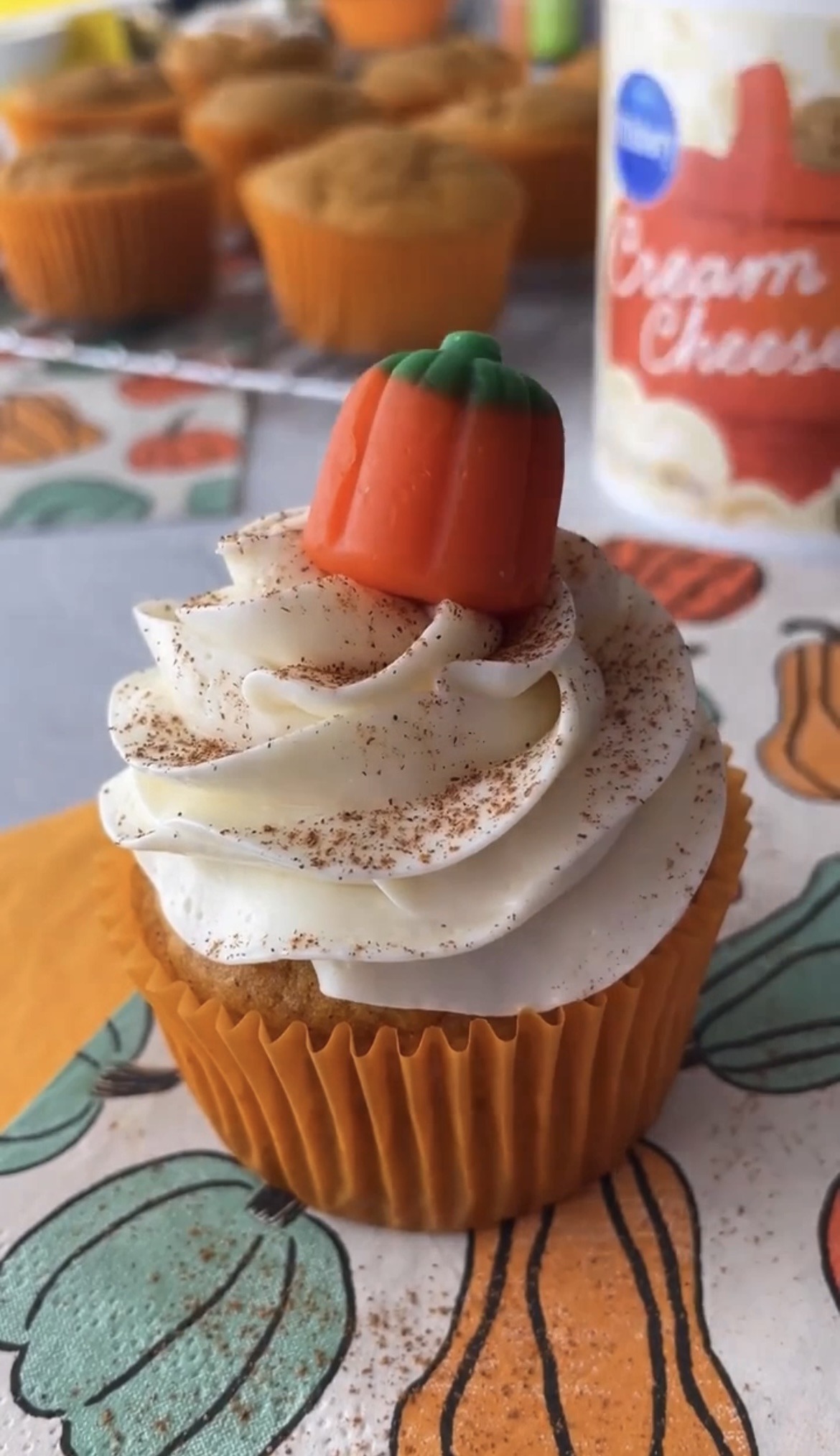 Pumpkin Puree Cupcakes Recipe
---
INGREDIENTS
1 box Pillsbury™ Moist Supreme® Yellow Cake Mix⁠
⁠1 tub Pillsbury™ Creamy Supreme® Cream Cheese Frosting⁠
Pumpkin Puree⁠
Pumpkin pie spice 
⁠Mini pumpkin candy⁠
⁠Cinnamon ⁠
REPARATION DIRECTIONS
Step 1
Preheat oven to 350 degrees. Mix 1 box of yellow cake mix, 3/4 cup pumpkin puree, 1 tsp pumpkin pie spice, 1 cup of water, and 1/2 cup oil in a large mixing bowl. ⁠
⁠Step 2
⁠Fill cupcake liners 2/3 full and bake for 18-20 minutes, let cool
⁠Step 3
Fit a piping bag with a 1M piping tip and fill with Pillsbury cream cheese frosting 
⁠Step 4
Frost the cupcake, sprinkle with cinnamon and top with a pumpkin candy!
Nutritional Information Per Serving
Serving Size (1 Cupcake), Calories (Calories from Fat ), Total Fat g (Saturated Fat g, Trans Fat g), Cholesterol mg, Sodium mg, Total Carbohydrate g (Dietary Fiber g, Sugars g), Protein g, Potassium mg, thiamine mg, Riboflavin mg, niacin mg, Folate mg, Vitamin B6 mg, Vitamin B12 mcg, Vitamin A mg, Vitamin C mg, Vitamin D mg, Calcium mg, Iron mg.
*Percent Daily Values are based on a 2,000 calorie diet.