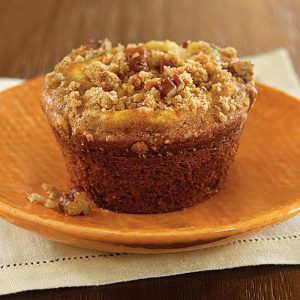 Pumpkin Quick Bread Cheesecake Muffins Recipe
---
INGREDIENTS
FILLING
Nonstick cooking spray
1 (8 oz.) package cream cheese, softened
1 large egg
1/4 cup sugar
2 teaspoons vanilla extract
2 teaspoons grated lemon peel
MUFFINS
PREPARATION DIRECTIONS
Step 1
Heat oven to 350°F. Coat 12 muffin cups with no-stick cooking spray.
Step 2
For Filling: Beat cream cheese in medium bowl with electric mixer on medium speed until fluffy. Add egg, sugar, vanilla and lemon peel. Beat until smooth.
Step 3
For Muffins: Place 3/4 cup quick bread & muffin mix in small bowl; set aside. Place remaining quick bread & muffin mix in large bowl. Add milk, oil and eggs. Stir 50 strokes or until blended.
Step 4
Fill each muffin cup with about 1/4 cup batter. Make indentation in center of batter with small measuring spoon coated with no-stick cooking spray. Spoon 1 heaping tablespoon cream cheese mixture in center of each muffin.
Step 5
Add melted butter to reserved quick bread and muffin mix. Stir with fork until crumbly. Stir in pecans. Sprinkle about 1 tablespoon topping over each muffin. Bake 20 to 22 minutes. Cool 10 minutes. Remove from pan to wire rack to cool completely.
Nutritional Information Per Serving
Serving Size (1/24), Calories 260 (Calories from Fat 90), Total Fat 10g (Saturated Fat 1g, Trans Fat g), Cholesterol 35mg, Sodium 250mg, Total Carbohydrate 41g (Dietary Fiber 1g, Sugars 25g), Protein 4g, Potassium mg, thiamine mg, Riboflavin mg, niacin mg, Folate mg, Vitamin B6 mg, Vitamin B12 mcg, Vitamin A mg, Vitamin C mg, Vitamin D mg, Calcium mg, Iron mg.
*Percent Daily Values are based on a 2,000 calorie diet.