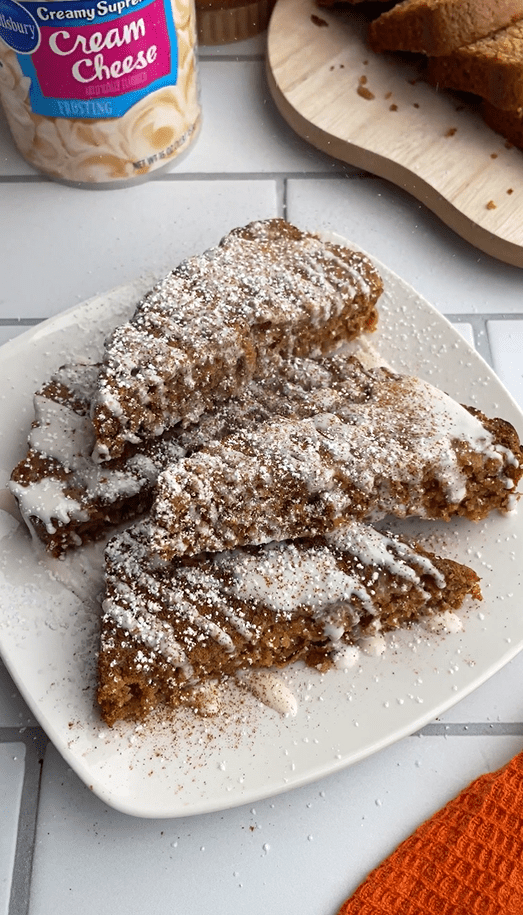 Pumpkin Quick Bread French Toast Recipe
---
INGREDIENTS
PREPARATION DIRECTIONS
Step 1
Preheat the oven to 350°F. Prepare batter according to the directions on the box and bake in your loaf pan until a toothpick comes out clean.
Step 2
Mix together the egg, milk, vanilla and cinnamon and set aside. Slice your loaf in thick slices and set aside. Heat your pan over medium heat, Dip your Pumpkin bread slice in the egg mixture and cook on each side for 1-2 minutes or until lightly browned.
Step 3
Drizzle with cream cheese frosting & sprinkle with Powdered sugar and cinnamon. Enjoy!
Nutritional Information Per Serving
Calories (Calories from Fat ), Total Fat g (Saturated Fat g, Trans Fat g), Cholesterol mg, Sodium mg, Total Carbohydrate g (Dietary Fiber g, Sugars g), Protein g, Potassium mg, thiamine mg, Riboflavin mg, niacin mg, Folate mg, Vitamin B6 mg, Vitamin B12 mcg, Vitamin A mg, Vitamin C mg, Vitamin D mg, Calcium mg, Iron mg.
*Percent Daily Values are based on a 2,000 calorie diet.