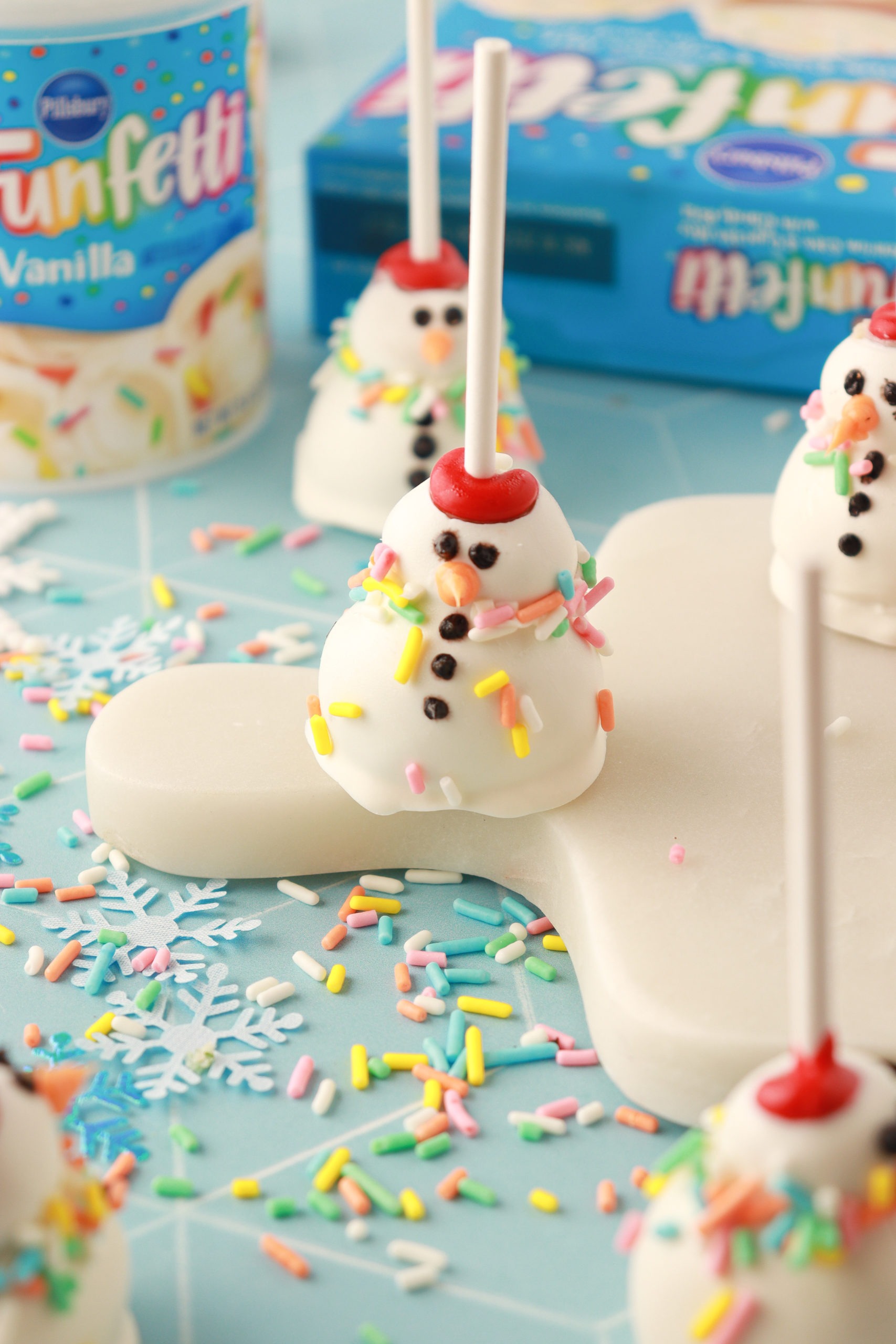 Snowman Cake Pops Recipe
---
INGREDIENTS
1 box Pillsbury™ Funfetti® Premium Cake and Cupcake Mix
Additional ingredients to prepare cake mix per box instructions
1 tub Pillsbury™ Funfetti® Vanilla Flavored Frosting
2 cups white chocolate chips or candy melts (if using candy melts, omit shortening)
1/4 cup All-Vegetable Shortening
Red food coloring
Black food coloring 
Orange food coloring
Piping bags
Small round piping tip
Treat sticks
PREPARATION DIRECTIONS
Step 1
PREPARE cake mix according to box instructions using water, oil and eggs. Bake in a 13 x 9-inch baking pan according to package instructions. Cool completely.
Step 2
CRUMBLE cooled cake into extra-large bowl. Beat with mixer on medium speed until fine crumbs, about 2 minutes. Spoon ¾ of the tub of frosting over cake crumbs and reserve the remaining frosting. Beat until evenly blended. Cover and freeze 30 minutes.
Step 3
LINE a baking pan with wax paper. Roll cake mixture into balls, creating a smaller ball for the snowman head and a larger one for the body. Freeze for 30 minutes.
Step 4
COMBINE chocolate chips and shortening (or candy melts) in medium microwave-safe bowl. Microwave on high for 1 minute; stir. Microwave in additional 30 second intervals until completely melted and smooth when stirred. If desired, tint a small amount of candy melts red to make a snowman's hat. Dip each treat stick into the candy melt to cause adhesion between the cake pops. Place the "head" of the snowman on first and then add the "body" for each snowman, pushing the entire snowman onto the treat stick.
Step 5
PLACE snowmen into the freezer for 5-10 minutes. Taking a few snowmen out at a time, dip the snowmen cake pops into a small bowl or cup of white candy melt. Let the cake pops dry for 5 minutes on a baking pan lined with wax paper. 
Step 6
TINT part of the remaining frosting orange for the snowman noses and the rest black for the snowman bodies. Place into two piping bags with a piping tip if desired. Pipe eyes and snowman buttons with the black frosting onto each cake pop. Pipe a nose onto each snowman with the orange frosting. Top with sprinkles from frosting lid.
Nutritional Information Per Serving
Serving Size (1 Cake Pop), Calories 350 (Calories from Fat ), Total Fat 19g (Saturated Fat 7g, Trans Fat 0g), Cholesterol 30mg, Sodium 240mg, Total Carbohydrate 43g (Dietary Fiber 0g, Sugars 33g, Includes 23g Added Sugars), Protein 3g, Potassium 76mg, thiamine 0mg, Riboflavin 0mg, niacin mg, Folate 0mg, Vitamin B6 0mg, Vitamin B12 0mcg, Vitamin A 0mg, Vitamin C 0mg, Vitamin D 0mg, Calcium 99mg, Iron 1mg.
*Percent Daily Values are based on a 2,000 calorie diet.