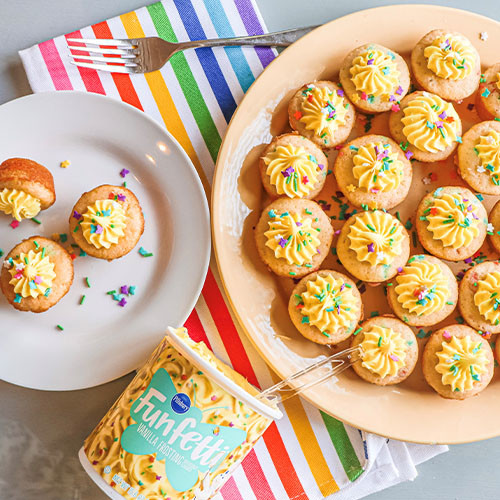 Funfetti® Spring Cookie Cups
---
INGREDIENTS
Nonstick cooking spray
1 package Pillsbury™ Funfetti® Spring Cake Mix
1 egg
1 stick butter, melted
3/4 cup Pillsbury™ Funfetti® Spring Vanilla Flavored Frosting
PREPARATION DIRECTIONS
Step 1
Heat oven to 350°F. Coat 36 mini muffin cups generously with non-stick cooking spray. Set aside.
Step 2
BEAT cake mix, cream cheese, egg and oil in large bowl with mixer on medium speed until dough forms. 
Step 3
Scoop dough balls into prepared mini muffin tin using 1 tablespoon cookie scoop.
Step 4
Bake for 10-12 minutes until lightly brown. Immediately, press the bottom of the 1 tablespoon scoop into the center of each cookie cup. Allow to cool completely.
Step 5
Place frosting into a piping bag or Ziploc bag with corner tip cut, and frosting tops of cookie cups. Decorate with sprinkles from frosting lid.
Nutritional Information Per Serving
Serving Size (1 cookie cup), Calories 230 (Calories from Fat ), Total Fat 13gg (Saturated Fat 5g, Trans Fat 0g), Cholesterol 30mg, Sodium 200mg, Total Carbohydrate 27g (Dietary Fiber 0g, Sugars 18g, Includes 10g Added Sugars), Protein 2g, Potassium 12mg, thiamine mg, Riboflavin mg, niacin mg, Folate mg, Vitamin B6 mg, Vitamin B12 mcg, Vitamin A mg, Vitamin C mg, Vitamin D 0mg, Calcium 52mg, Iron 0mg.
*Percent Daily Values are based on a 2,000 calorie diet.