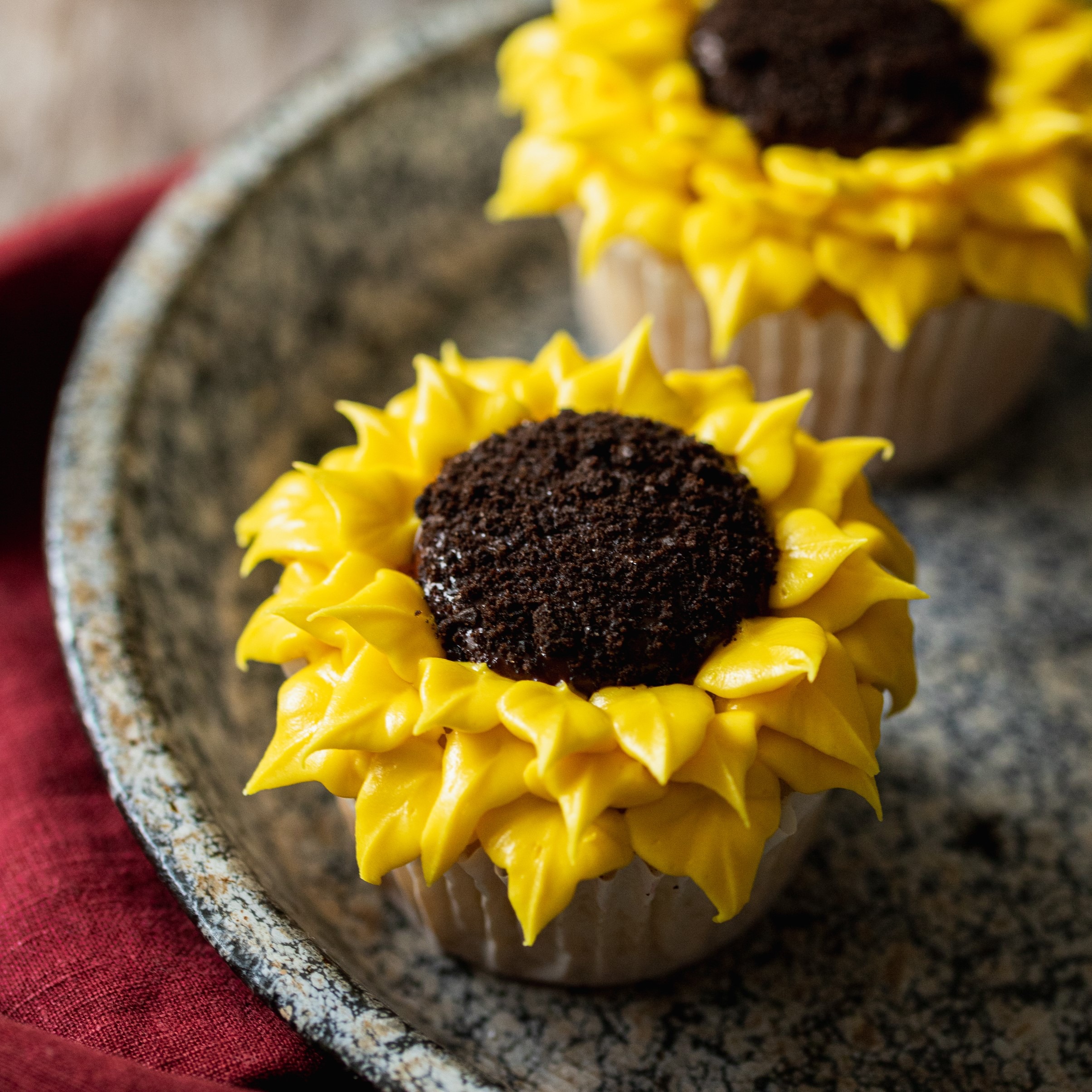 Sunflower Cupcakes Recipe
---
INGREDIENTS
1 box Pillsbury™ Moist Supreme® Yellow Premium Cake Mix
1 tub Pillsbury™ Creamy Supreme® Chocolate Frosting
1 tub Pillsbury™ Creamy Supreme® White Frosting, colored yellow
Additional ingredients per package instructions
Chocolate sandwich cookies, with the filling removed
PREPARATION DIRECTIONS
Step 1
PREPARE cake and brownie mix according to package directions to make 24 cupcakes and a 9x13 brownie sheet. Cool completely.
Step 2 
PIPE a circle of Chocolate Frosting onto your cupcake. Dip into crushed chocolate cookies.⁠⁠
Step 3 
PLACE yellow Frosting into a piping bag fitted with a leaf tip. Using gentle, steady pressure, pipe petals around the cupcake, working from the outside in. ⁠⁠
Nutritional Information Per Serving
Serving Size (1 Cupcake), Calories 270 (Calories from Fat ), Total Fat 12g (Saturated Fat 4g, Trans Fat 0g), Cholesterol 25mg, Sodium 220mg, Total Carbohydrate 39g (Dietary Fiber 0g, Sugars 30g, Includes 30g Added Sugars), Protein 1g, Potassium 29mg, thiamine 0mg, Riboflavin 0mg, niacin mg, Folate 0mg, Vitamin B6 0mg, Vitamin B12 0mcg, Vitamin A 0mg, Vitamin C 0mg, Vitamin D 0mg, Calcium 55mg, Iron 1mg.
*Percent Daily Values are based on a 2,000 calorie diet.