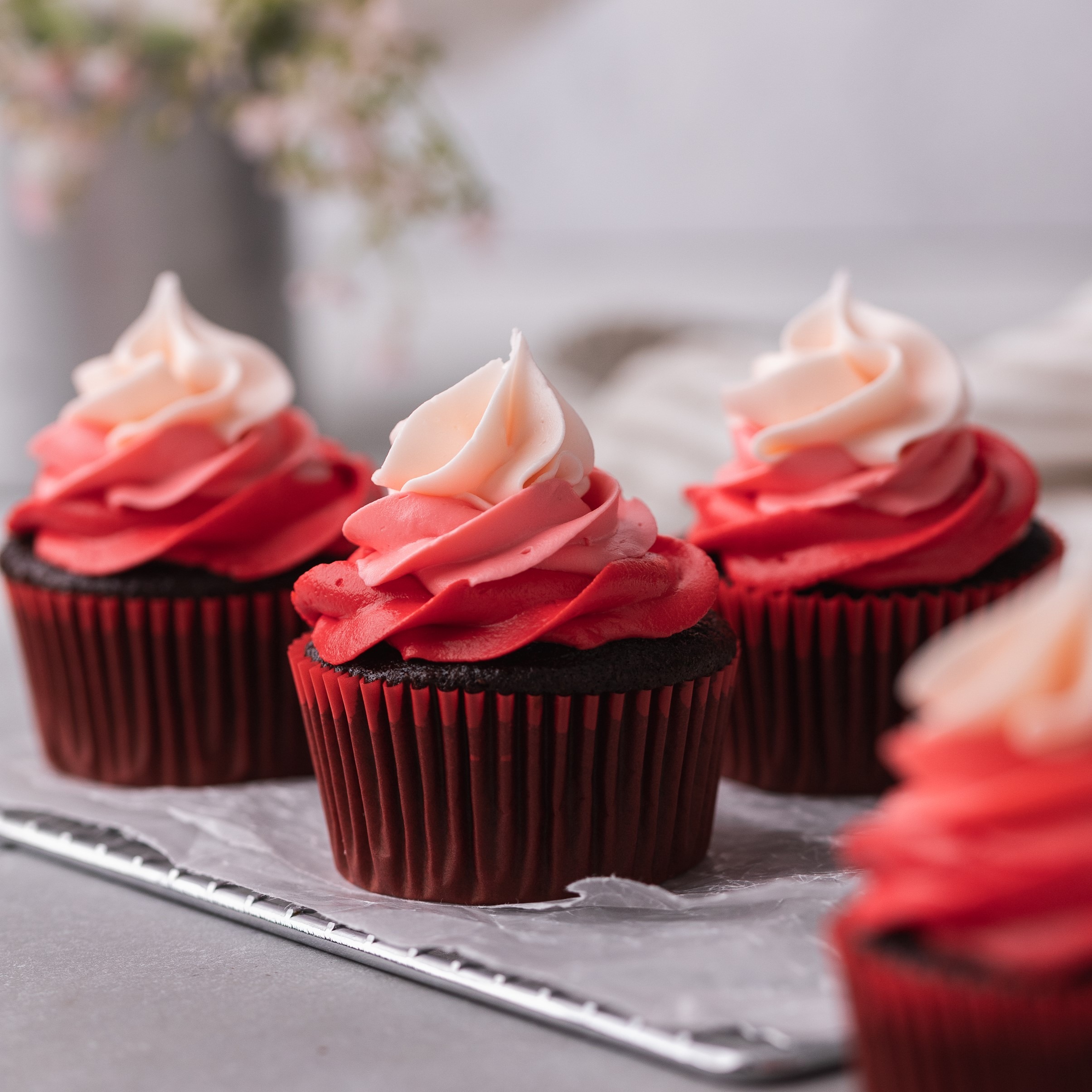 Valentine's Swirl Cupcakes
---
INGREDIENTS
1 box Pillsbury™ Moist Supreme® Devil's Food Cake Mix
Additional ingredients per package instructions
1 tub Pillsbury™ Creamy Supreme® White Frosting
Red food coloring
PREPARATION DIRECTIONS
Step 1
Preheat oven to 350°F. Line muffin tins with 24 cupcake liners.
Step 2
In a large bowl, beat 1 box cake mix, water, eggs, and oil per package instructions.
Step 3
Pour batter into cupcake pan; fill each cupcake liner halfway for 24 cupcakes. Bake for 19-23 minutes per package instructions.
Step 4
Divide frosting into three bowls. Add 1 drop of red food coloring into the first bowl; 3 drops, into the second bowl; and 10 drops, into the final bowl. Mix until evenly distributed. 
Step 5
Fit three piping bags with open star tips.  Add each frosting to its own piping bag.  Beginning with the red frosting, pipe a base circle on all cupcakes.  Add a small circle of medium pink on top of each red circle.  Finish with a dollop of light pink on top of each.
Nutritional Information Per Serving
Serving Size (1 of 24 cupcakes (58g)), Calories 200 (Calories from Fat ), Total Fat 9g (Saturated Fat 2.5g, Trans Fat 0g), Cholesterol 25mg, Sodium 180mg, Total Carbohydrate 27g (Dietary Fiber 1g, Sugars 19g, Includes 19g Added Sugars), Protein 2g, Potassium 45mg, thiamine 0mg, Riboflavin 0mg, niacin mg, Folate 0mg, Vitamin B6 0mg, Vitamin B12 0mcg, Vitamin A 0mg, Vitamin C 0mg, Vitamin D 0mg, Calcium 39mg, Iron 1mg.
*Percent Daily Values are based on a 2,000 calorie diet.