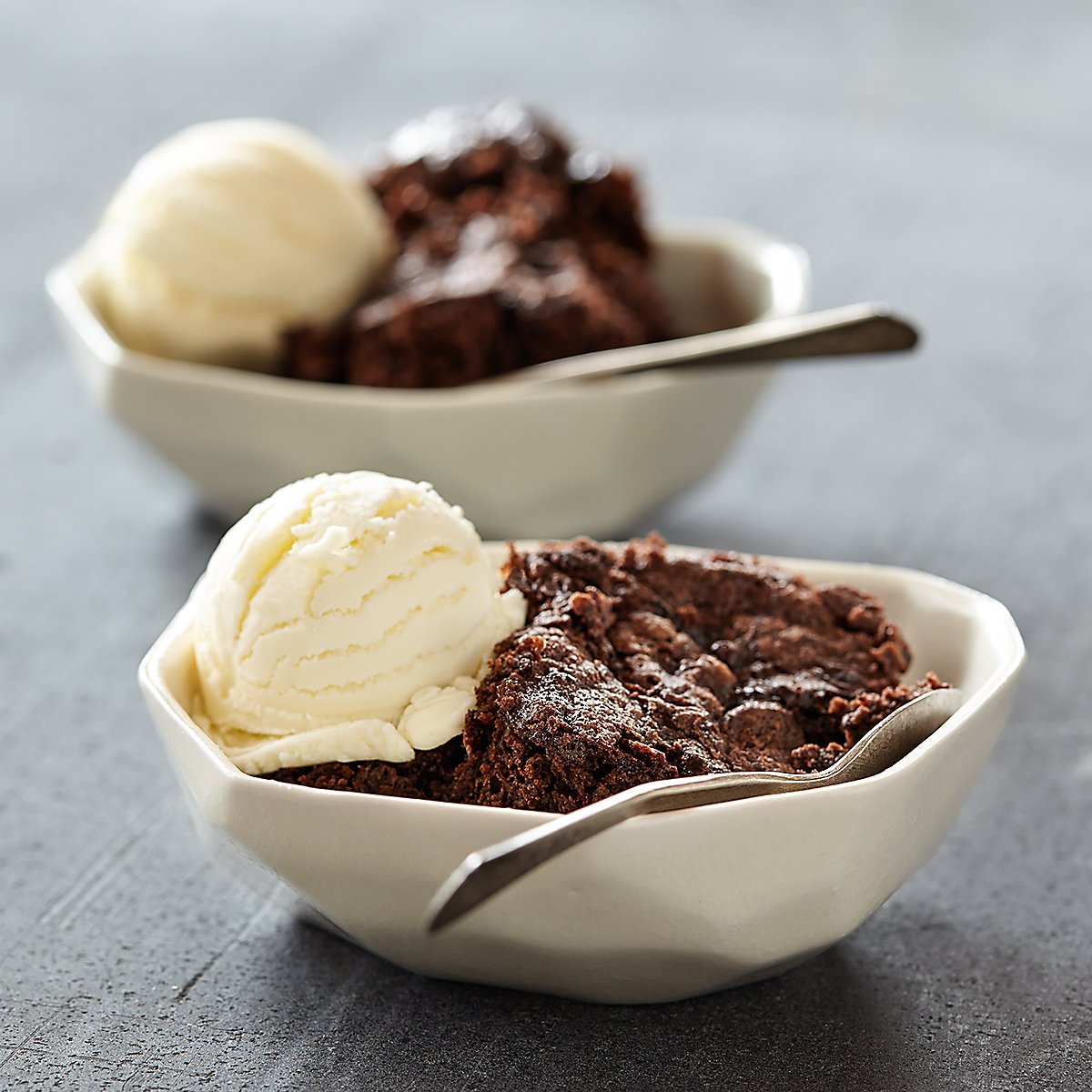 Warm Fudge Brownie Pudding
---
INGREDIENTS
1 box Pillsbury™ Family Size Chocolate Fudge Brownie Mix
1 teaspoon baking powder
1/2 cup milk
1/3 cup butter, melted
1 egg
1 teaspoon vanilla extract
1/3 cup unsweetened baking cocoa
1/2 cup firmly packed brown sugar
3/4 cup hot water
Vanilla ice cream
PREPARATION DIRECTIONS
Step 1
HEAT oven to 350°F. Coat 9-inch square baking pan with no-stick cooking spray. Combine brownie mix and baking powder in medium bowl. Stir in milk, butter, egg and vanilla until blended. Spread evenly in prepared pan.
Step 2
SPRINKLE evenly with cocoa and brown sugar. Pour hot water evenly over top; do not stir.
Step 3
BAKE 35 to 40 minutes or until center is almost set. Let stand 10 minutes. Spoon into serving dishes. Top with ice cream. Serve immediately.
Nutritional Information Per Serving
Serving Size (1/12 of recipe), Calories 330 (Calories from Fat 100), Total Fat 11g (Saturated Fat 6g, Trans Fat g), Cholesterol 45mg, Sodium 240mg, Total Carbohydrate 57g (Dietary Fiber 2g, Sugars 43g), Protein 4g, Potassium 282mg, thiamine mg, Riboflavin mg, niacin mg, Folate mg, Vitamin B6 mg, Vitamin B12 mcg, Vitamin A mg, Vitamin C mg, Vitamin D mg, Calcium 98mg, Iron 2mg.
*Percent Daily Values are based on a 2,000 calorie diet.