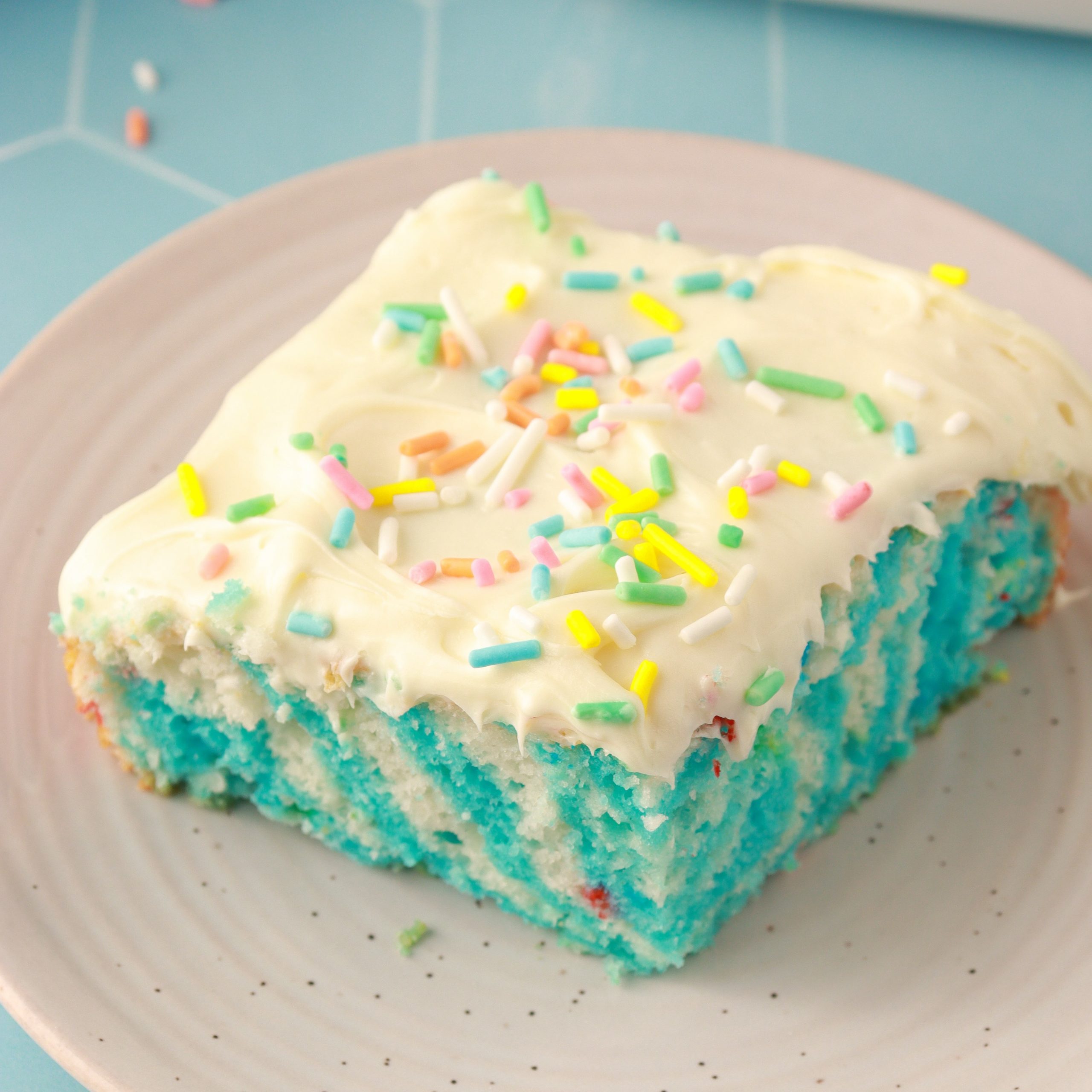 Zebra Cake Recipe
---
INGREDIENTS
PREPARATION DIRECTIONS
Step 1
PREPARE 2 boxes of Funfetti cake mix separately. Optionally use egg whites instead of eggs for a white colored layer. Dye one of the bowls blue.
Step 2
PREHEAT oven to 350° F. PREPARE a 9x13 pan with parchment and baking spray.
Step 3
SCOOP batters into center of the pan, alternating colors. Note: we used about 2/3 of each batter, and made cupcakes with the rest!
Step 4 
Bake 40-45 minutes or until a toothpick or sharp knife inserted into the center comes out clean.⁠
Step 5
Let cool completely. Frost, using the back of a spoon to swirl in a design. Top with sprinkles and enjoy!⁠
Nutritional Information Per Serving
Serving Size (1 Slice), Calories 280 (Calories from Fat ), Total Fat 10g (Saturated Fat 3.5g, Trans Fat 0g), Cholesterol 25mg, Sodium 350mg, Total Carbohydrate 44g (Dietary Fiber 1g, Sugars 28g, Includes 28g Added Sugars), Protein 2g, Potassium 34mg, thiamine 0mg, Riboflavin 0mg, niacin mg, Folate 0mg, Vitamin B6 0mg, Vitamin B12 0mcg, Vitamin A 0mg, Vitamin C 0mg, Vitamin D 0mg, Calcium 111mg, Iron 1mg.
*Percent Daily Values are based on a 2,000 calorie diet.