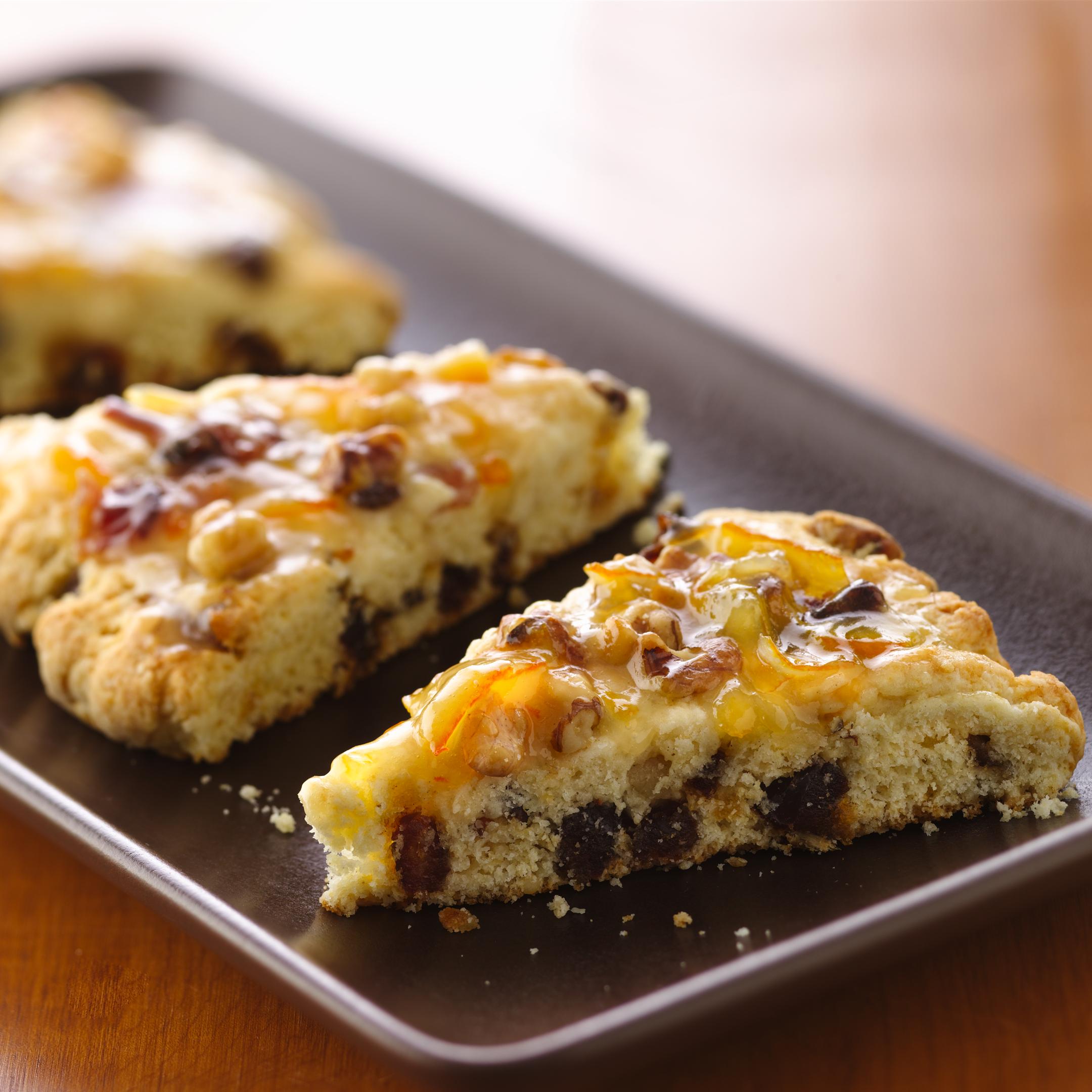 Bacon-Date Scones with Orange Marmalade Glaze
---
INGREDIENTS
SCONES
Nonstick cooking spray
2 1/4 cups Pillsbury BEST™ All Purpose Flour
1/3 cup sugar
4 teaspoons baking powder
6 tablespoons butter
1/2 cup chopped precooked bacon
1/2 cup chopped pitted dates
1/2 cup chopped walnuts
3/4 cup whipping cream
1 Egg
GLAZE
1/2 cup Sweet Orange Marmalade
2 tablespoons butter
PREPARATION DIRECTIONS
Step 1
Heat oven to 400°F. Spray 1 large cookie sheet with no-stick cooking spray. In large bowl, combine flour, sugar and baking powder; mix well. Using pastry blender or fork, cut in 6 tablespoons butter until mixture looks like coarse crumbs.
Step 2
In small bowl, stir together bacon, dates and nuts. Stir 1 cup of bacon mixture into flour mixture; set remaining bacon mixture aside. Make a well in center of flour mixture. In small bowl, lightly beat cream and egg together with wire whisk. Pour into well of flour mixture. Stir with fork until flour mixture is moistened. Gently form into 2 balls.
Step 3
Place balls about 3 1/2 inches apart on cookie sheet; pat each into 8-inch round. Using knife dipped in flour, cut each round into 8 wedges; do not separate. Sprinkle top of each round with remaining bacon mixture. Press mixture into dough.
Step 4
Bake 14 to 16 minutes or until edges are light golden brown.
Step 5
In small microwavable bowl, microwave glaze ingredients on High 20 to 30 seconds or until melted, stirring until smooth. Spread glaze evenly over the 2 rounds. Carefully separate into 16 wedges. Serve warm.
Bake-Off is a registered trademark of General Mills ©2012 / LAND O LAKES is a registered trademark of Land O'Lakes, Inc. / Fisher® is a registered trademark of John B. Sanfilippo & Son, Inc. ©2012
Nutritional Information Per Serving
Serving Size (1 scone of 16), Calories 250 (Calories from Fat 120), Total Fat 13g (Saturated Fat 7g, Trans Fat g), Cholesterol 45mg, Sodium 230mg, Total Carbohydrate 29g (Dietary Fiber 1g, Sugars 14g), Protein 4g, Potassium mg, thiamine mg, Riboflavin mg, niacin mg, Folate mg, Vitamin B6 mg, Vitamin B12 mcg, Vitamin A mg, Vitamin C mg, Vitamin D mg, Calcium mg, Iron mg.
*Percent Daily Values are based on a 2,000 calorie diet.