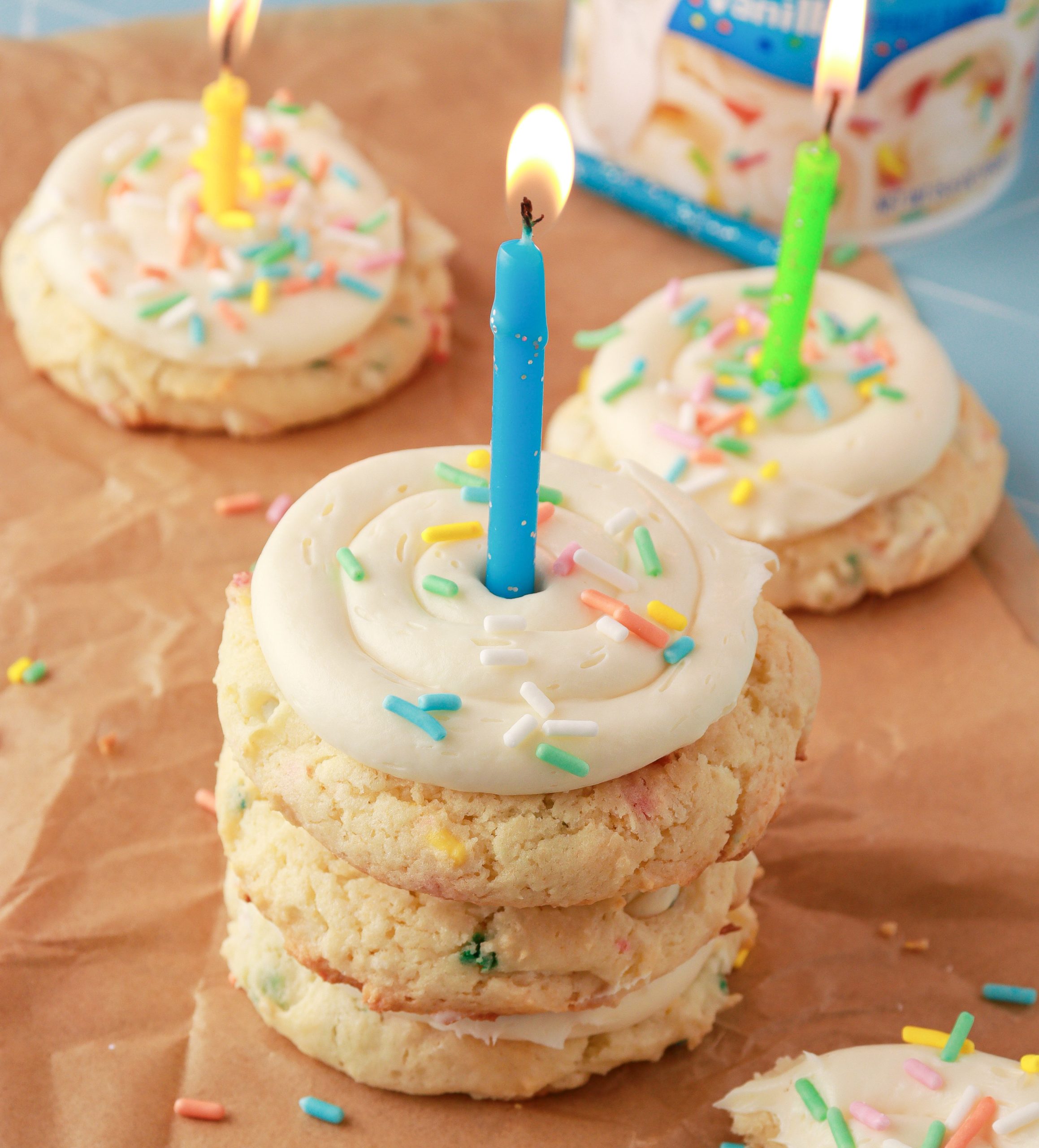 Birthday Cake Cookies Recipe
---
INGREDIENTS
1 box Pillsbury™ Funfetti® Premium Cake Mix
⅓ cup oil
2 eggs
1 cup white chocolate chips 
1 tub Pillsbury™ Funfetti® Vanilla Flavored Frosting
Piping Bag
Piping tip (number 2A)
PREPARATION DIRECTIONS
PREHEAT oven to  350° F. Add all cookie ingredients to a medium-sized bowl and stir until combined. ⁠
Step 2
FORM dough into 2 Tbsp. balls and place onto a baking sheet lined with parchment paper. ⁠
Step 3 
BAKE at 350° F for 10 minutes. ⁠Remove from oven. 
Step 4
USE a medium round cookie cutter or small glass to shape the cookies into perfect circles while still warm. Using the bottom of a measuring cup or small glass, press gently down onto each cookie to slightly flatten. Let cool completely.
Step 5
SPOON frosting into a piping bag fitted with piping tip (number 2A). Pipe a swirl of frosting onto each cooled cookie. Top with sprinkles from frosting lid.
Nutritional Information Per Serving
Serving Size (1 Frosted Cookie), Calories 200 (Calories from Fat ), Total Fat 8g (Saturated Fat 4g, Trans Fat 0g), Cholesterol 20mg, Sodium 150mg, Total Carbohydrate 31g (Dietary Fiber 0g, Sugars 18g, Includes 20g Added Sugars), Protein 1g, Potassium 21mg, thiamine 0mg, Riboflavin 0mg, niacin mg, Folate 0mg, Vitamin B6 0mg, Vitamin B12 0mcg, Vitamin A 0mg, Vitamin C 0mg, Vitamin D 0mg, Calcium 5mg, Iron 1mg.
*Percent Daily Values are based on a 2,000 calorie diet.