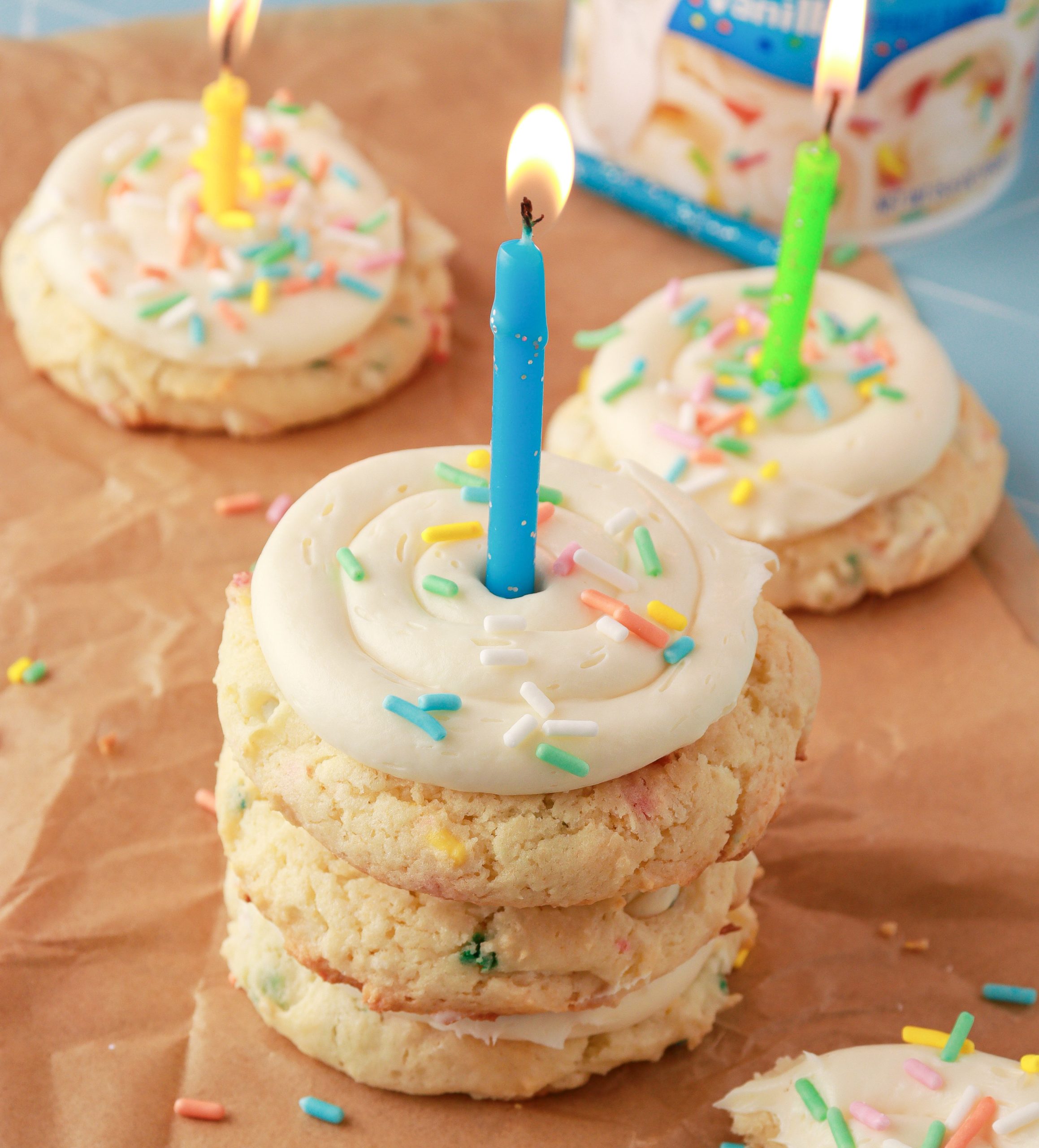 Birthday Cake Cookies Recipe
---
INGREDIENTS
1 box Pillsbury™ Funfetti® Premium Cake Mix
⅓ cup oil
2 eggs
1 cup white chocolate chips 
1 tub Pillsbury™ Funfetti® Vanilla Flavored Frosting
Piping Bag
Piping tip (number 2A)
PREPARATION DIRECTIONS
PREHEAT oven to  350° F. Add all cookie ingredients to a medium-sized bowl and stir until combined. ⁠
Step 2
FORM dough into 2 Tbsp. balls and place onto a baking sheet lined with parchment paper. ⁠
Step 3 
BAKE at 350° F for 10 minutes. ⁠Remove from oven. 
Step 4
USE a medium round cookie cutter or small glass to shape the cookies into perfect circles while still warm. Using the bottom of a measuring cup or small glass, press gently down onto each cookie to slightly flatten. Let cool completely.
Step 5
SPOON frosting into a piping bag fitted with piping tip (number 2A). Pipe a swirl of frosting onto each cooled cookie. Top with sprinkles from frosting lid.
Nutritional Information Per Serving
Calories (Calories from Fat ), Total Fat g (Saturated Fat g, Trans Fat g), Cholesterol mg, Sodium mg, Total Carbohydrate g (Dietary Fiber g, Sugars g), Protein g, Potassium mg, thiamine mg, Riboflavin mg, niacin mg, Folate mg, Vitamin B6 mg, Vitamin B12 mcg, Vitamin A mg, Vitamin C mg, Vitamin D mg, Calcium mg, Iron mg.
*Percent Daily Values are based on a 2,000 calorie diet.