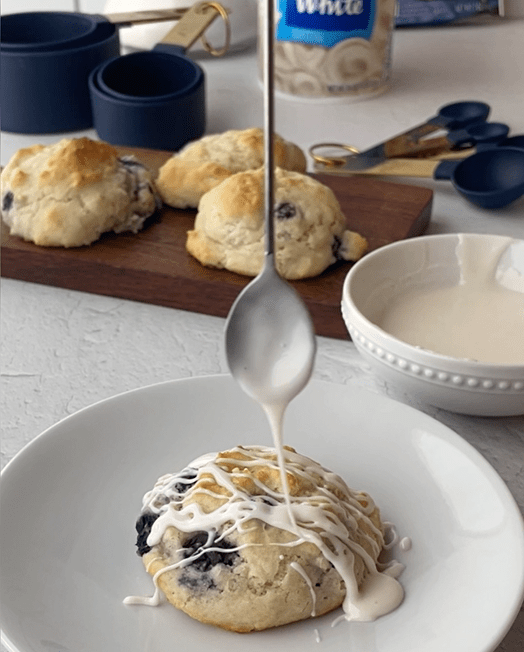 Blueberry Biscuits Recipe
---
INGREDIENTS
BISCUIT INGREDIENTS
1 package Pillsbury™ Homestyle Biscuit Mix
Additional ingredients to prepare biscuit mix per package directions
1 tablespoon granulated sugar
3/4 cup of frozen blueberries 
PREPARATION DIRECTIONS
Step 1
Preheat oven to 400 degrees. Make biscuits according to package directions. Add sugar. 
Step 2
Carefully fold in the frozen blueberries 
Step 3
On a parchment lined paper, drop 1 tablespoon of dough about 2 inches apart
Step 4
Bake for 10-12 minutes or until golden brown. 
Step 5
In a microwave safe container, heat Pillsbury white frosting for 5-10 seconds and drizzle over the top of the biscuits. 
Nutritional Information Per Serving
Serving Size (1 biscuit), Calories (Calories from Fat ), Total Fat g (Saturated Fat g, Trans Fat g), Cholesterol mg, Sodium mg, Total Carbohydrate g (Dietary Fiber g, Sugars g), Protein g, Potassium mg, thiamine mg, Riboflavin mg, niacin mg, Folate mg, Vitamin B6 mg, Vitamin B12 mcg, Vitamin A mg, Vitamin C mg, Vitamin D mg, Calcium mg, Iron mg.
*Percent Daily Values are based on a 2,000 calorie diet.