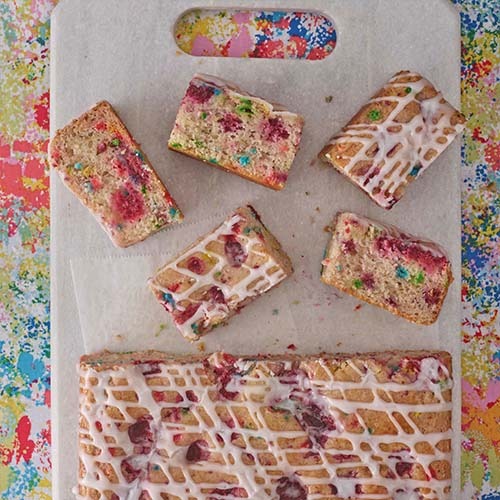 Raspberry Lemon Funfetti® Coffee Cake
---
INGREDIENTS
2-½ cups Pillsbury™ Funfetti® Complete Pancake Mix
½ cup sugar
1 egg
1 cup sour cream
1 teaspoon vanilla extract
6 oz. frozen raspberries, thawed or 6 ounces fresh raspberries
1 lemon, zested and juiced
½ cup powdered sugar
PREPARATION DIRECTIONS
Step 1
Preheat oven to 350°F.
Step 2
Coat a 9 x 9 inch baking pan with nonstick spray.
Step 3
Combine pancake mix and sugar in a large bowl and whisk until well combined.
Step 4
Whisk together milk, egg, sour cream, vanilla extract, lemon zest, and 2 tablespoons of lemon juice in a second bowl. Reserve any remaining lemon juice for glaze.
Step 5
Add to dry ingredients and mix until only a few lumps remain. Fold in raspberries gently. Pour into prepared pan.
Step 6
Bake 30-35 minutes or until toothpick inserted in center comes out clean. Cool completely in pan.
Step 7
Stir together remaining lemon juice and powdered sugar in a small bowl. Add water by the teaspoon until glaze is thin enough to spoon over top of cooled coffee cake.
Nutritional Information Per Serving
Serving Size (1 slice), Calories 200 (Calories from Fat 0), Total Fat 4.5g (Saturated Fat 2g, Trans Fat 0g), Cholesterol 30mg, Sodium 300mg, Total Carbohydrate 36g (Dietary Fiber 1g, Sugars 20g, Includes 13g Added Sugars), Protein 4g, Potassium 27mg, thiamine 0mg, Riboflavin 0mg, niacin 0mg, Folate 0mg, Vitamin B6 0mg, Vitamin B12 0mcg, Vitamin A 0mg, Vitamin C 0mg, Vitamin D 0mg, Calcium 125mg, Iron 0mg.
*Percent Daily Values are based on a 2,000 calorie diet.