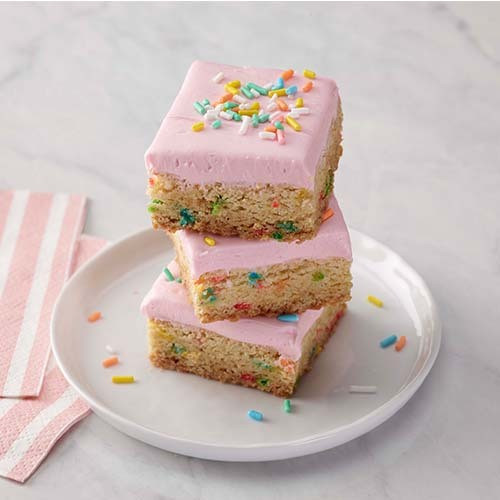 Funfetti® Frosted Sugar Cookie Bars
---
INGREDIENTS
PREPARATION DIRECTIONS
Step 1
Preheat oven to 350ºF. Line an 8 x 8-inch baking pan with aluminum foil. Make sure to leave overhang on the sides. Set aside.
Step 2
Mix together Pillsbury™ Funfetti® Sugar Cookie Mix, butter, and egg in a bowl until well-combined. Press the cookie dough evenly into the prepared baking pan. Bake for 25-26 minutes or until very lightly browned on top. Allow the bars to cool completely at room temperature.
Step 3
Add 2-3 drops of pink food coloring to the frosting. Remove cooled bars from the baking pan using the aluminum foil overhang on the sides. Frost the bars with a thick layer of frosting. Decorate with sprinkles from the frosting lid. Cut into squares and serve.
Nutritional Information Per Serving
Serving Size (1 bar), Calories 280 (Calories from Fat 0), Total Fat 13g (Saturated Fat 7g, Trans Fat 0g), Cholesterol 25mg, Sodium 170mg, Total Carbohydrate 41g (Dietary Fiber 1g, Sugars 29g, Includes 28g Added Sugars), Protein 1g, Potassium 18mg, thiamine 0mg, Riboflavin 0mg, niacin 0mg, Folate 0mg, Vitamin B6 0mg, Vitamin B12 0mcg, Vitamin A 0mg, Vitamin C 0mg, Vitamin D 0mg, Calcium 4mg, Iron 1mg.
*Percent Daily Values are based on a 2,000 calorie diet.