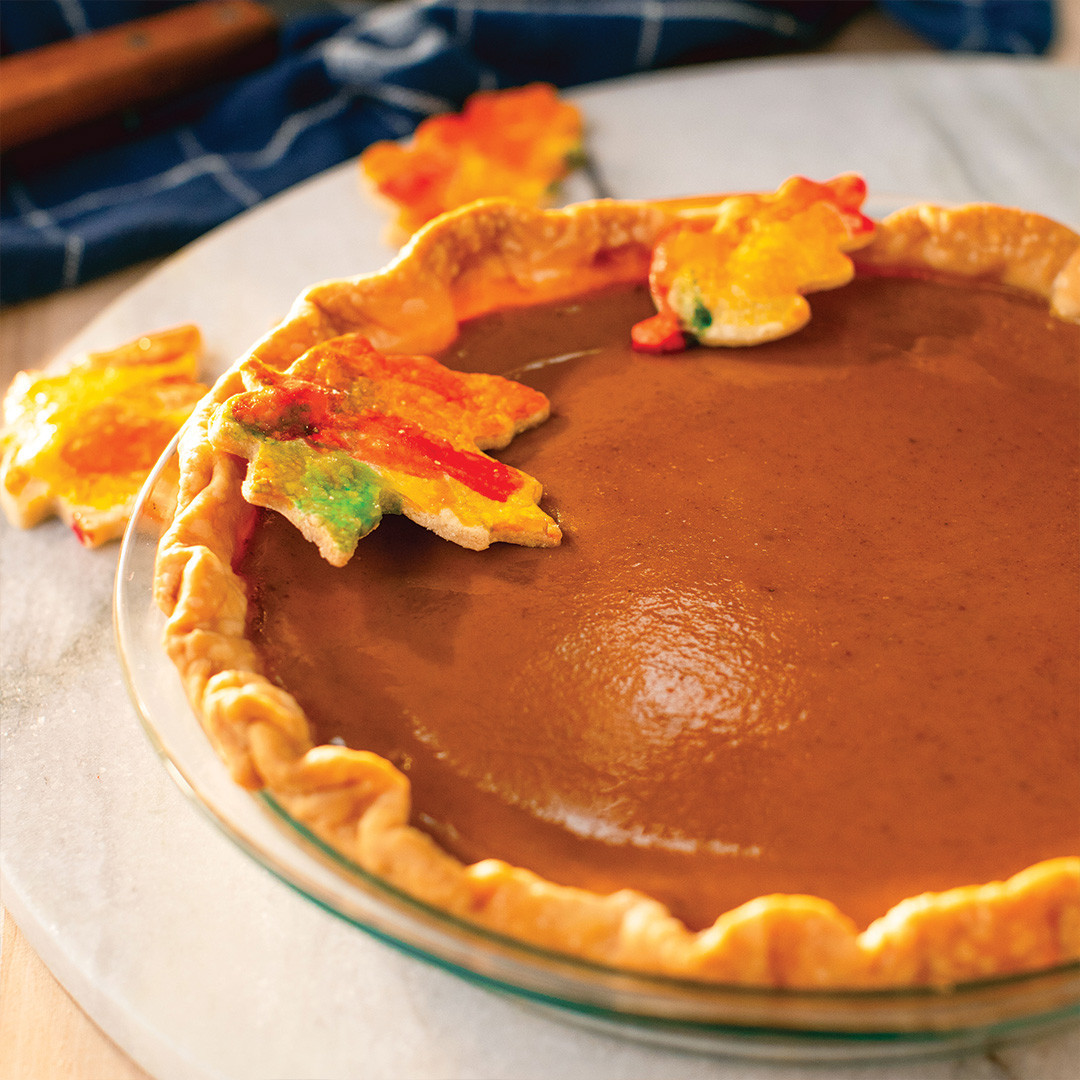 Pillsbury Best™ Perfect Pie Crust Recipe
---
INGREDIENTS
PIE CRUST INGREDIENTS:
PIE TOPPERS INGREDIENTS:
Leftover pie dough
Egg yolk
Food coloring
Paint brush
PREPARATION DIRECTIONS
PIE CRUST INSTRUCTIONS:
Step 1
Set oven to 350°F.
Step 2
Combine Pillsbury™ Best™ All Purpose Flour, salt, and butter in a food processor, or large bowl. Pulse in blender or use a pastry blender, or fork to combine until small pea crumbles form.
Step 3
In a large bowl, combine crumbled dough with sugar and egg until incorporated. Chill in fridge for two hours.
Step 4
Once chilled, remove dough from fridge. Lightly flour a surface and roll out dough in a circle until quarter inch thick.
Step 5
Place the rolled out crust into 9-inch pie dish. Use knife or scissors to trim off excess. Crimp edges to your liking.
Step 6
Fill with the perfect filling: PILLSBURY PERFECT PUMPKIN PIE FILLING or PILLSBURY PERFECT SWEET POTATO PIE FILLING
PIE TOPPERS INSTRUCTIONS:
Step 1
Set oven to 350°F.
Step 2
Recombine the trimmed dough from the pie crust and roll out to begin cutting shapes.
Step 3
Cut out festive shapes with cutters such as leaves, gourds, and deer.
Step 4
Make "paint" by mixing a few drops of food coloring into 1 teaspoon of egg yolk. Thin with water if necessary.
Step 5
Paint shapes of dough with a brush.
Step 6
Bake toppers on separate lined baking sheet for 15 minutes.
Step 7
When the pie is out of the oven and cooled, top pie with decorated pie toppers.
Nutritional Information Per Serving
Serving Size (1 slice, 1/8 pie *without filling), Calories 150 (Calories from Fat 150), Total Fat 8g (Saturated Fat g, Trans Fat 0g), Cholesterol 40mg, Sodium 85mg, Total Carbohydrate 16g (Dietary Fiber 0g, Sugars 2g), Protein 3g, Potassium 10mg, thiamine 0mg, Riboflavin 0mg, niacin 0mg, Folate 0mg, Vitamin B6 0mg, Vitamin B12 0mcg, Vitamin A 0mg, Vitamin C 0mg, Vitamin D 0mg, Calcium mg, Iron 0.8mg.
*Percent Daily Values are based on a 2,000 calorie diet.